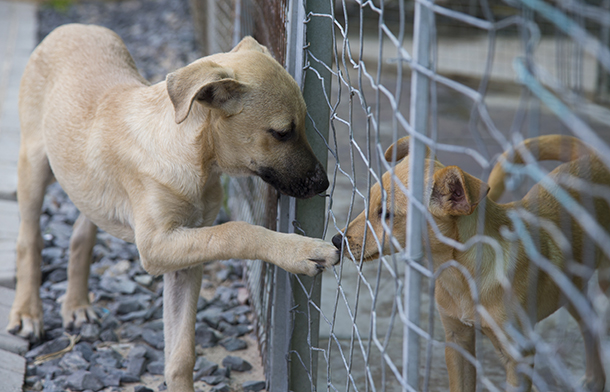 Controlling the populations of companion animals is a big challenge. Everyone wants their little girl to have "just one litter" or their little boy to have "just one girlfriend." Sadly it is this attitude that has lead to the population explosion, resulting in shelters that are bursting at the seams, and dozens of puppies that are given away in desperation when they cannot be sold.
When I first began working in animal welfare in disadvantaged areas almost four decades ago, the numbers of companion animals living in these communities was far more manageable; many people lived alone in the so-called townships, their actual "homes" being in the rural areas, and this was where they kept their pets. Alternatively, domestic workers had live-in accommodation and did not have pets of their own.
Now, however, the informal settlements and low-income neighbourhoods are home to many people who were born and raised there, and have no alternative home in the country. Rather than being "work away from home" accommodation, the shacks and Government supplied houses are family homes, complete with pets.
Due to financial restraints, limited access to private transport, and poor education regarding proper care and responsible ownership, dogs and cats do not get sterilised unless a welfare group is able to assist, and the population has grown exponentially over the years.  Although many municipalities have introduced by-laws making sterilisation mandatory, the logistics of policing and enforcing these regulations are complex, and to a large extent they remain simply words on a document.
Although their existence can be used by welfare groups to persuade reluctant pet owners, it is essential that the public see some action being taken against those who do not comply.
With the judicial system falling far short of justice in matters of animal abuse, neglect and cruelty, l believe it is time for government departments to play an active role in managing the populations of companion animals and controlling the sale of puppies and kittens. In South Africa there are relatively few state-run pounds, and no state budget for sterilisations, so the responsibility for providing primary veterinary care lands squarely on the shoulders of privately funded organisations and volunteers. Furthermore due to the uncontrolled breeding, puppies and kittens have become a disposable commodity, and there is no incentive to ensure that ones' pet lives a long and happy life.
Backyard breeders see their unsterilised pets as a source of income, and puppies and kittens are sold at a very young age, resulting in a high mortality rate; this heartbreak for children who have bonded with a new pet can have lifelong consequences as they resist becoming emotionally attached. The inability of a child to process grief and other so-called negative emotions in a constructive manner has far reaching consequences, which are now being studied under the term Adverse Childhood Experiences (ACEs).
All in all the problem of population control of companion pets extends way beyond the census figures and burden upon welfare societies; it extends into the very fibre of society.
According to Gandhi "the greatness of a nation and its moral progress can be judged by the way its animals are treated" and a good starting point would be for politicians to recognise that they have a moral obligation to address matters of animal welfare and wellbeing. For far too long, rules and regulations have been limited to punitive measures for abject cruelty, rather than addressing the physical and psychological needs of all sentient beings. 
Educating people must extend beyond good nutrition, and embrace the concepts of compassion and empathy.
At Mdzananda Animal Clinic we aspire towards a holistic approach in our education programmes, which will ultimately make the world a better place for all – humans and non-humans.
—RS

GD Star Rating
loading...
Article source: IFAW