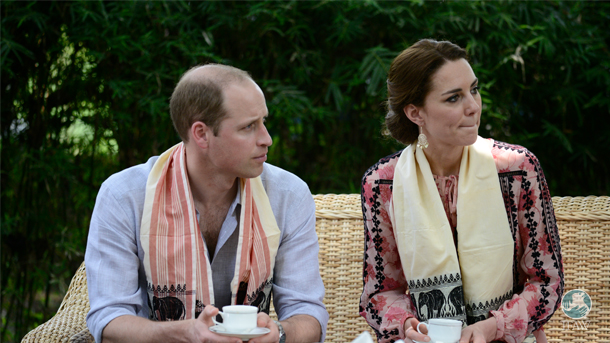 Prince William will be the keynote speaker at a conference on the illegal wildlife trade in Hanoi, Vietnam this week. He is expected to take part in a number of high profile events, including a TV chat show in Vietnam to highlight the dreadful impact of the illegal wildlife trade on endangered species, before he addresses governments from around the world at the conference.
Illegal wildlife trade is now a very serious global problem and over more recent years has seen the participation of serious and organised criminal gangs and networks, which have industrialised poaching and smuggling using existing undercover networks onto a truly epic scale. It is clear that to tackle this global threat, a global solution is needed and that no individual country can do this on its own.
A few years ago, in 2014, the British Government organised a summit in London to bring leaders and key figures together from around the world to focus on tackling the issue. IFAW was there at the symposium and leaders event and as part of a select team of conservation NGOs, worked closely with Defra and the Foreign Office on this event. The aim of the meeting was clear: to secure international political commitment to specifically tackle the illegal wildlife trade, before it is too late. At the meeting a document called the 'London Declaration' was signed by participants, which strengthened their commitments to stopping the illegal wildlife trade.
READ: Wildlife campaign reaches more than 11 million Chinese netizens
The following year a follow up meeting was organised in Malawi, and this year it is the turn of Hanoi. Prince William has always had a very strong interest in tackling the illegal wildlife trade and poaching, but there may be another reason he is so keen to visit Vietnam.
It was only a few months ago when IFAW-WTI hosted HRH Duke and Duchess of Cambridge at the Wildlife Rescue Centre. It was there that the young Royals saw first-hand the consequences of poaching and the illegal trade in ivory and rhino horn. One photo from the visit graced the front pages of newspapers worldwide: The Duchess of Cambridge hand feeding an orphaned rhino calf with a bottle.
Although some reports suggest that demand is reducing in Vietnam for rhino horn, in part linked to successful demand reduction programs, Vietnam is still the key player when it comes to the consumption of rhino horn. Where there's consumption, there's poaching and that's why more than 1,000 rhinos were killed in South Africa alone last year.
The crazy thing is that rhino horn is just made of keratin – just like fingernails. Yet, people pay thousands of pounds to ingest ground rhino horn for all kinds of strange and unscientific reasons – as a medicinal tonic, as a hangover cure, as a party drug and even as a cure for cancer!
It's not just rhino horn that the Prince is passionate about though. In a landmark speech in London last month, the Duke of Cambridge said: "We have the chance to say that ivory is a symbol of destruction, not of luxury and not something that anyone needs to buy or sell.
"Now is the chance to send an unambiguous message to the world that it is no longer acceptable to buy and sell ivory, rhino horn or other illegal wildlife products. Indeed, I would challenge anyone who knows the truth of how these wildlife products are obtained, to justify desiring them."
The Hanoi conference is the third International Wildlife Trade Conference and is expected to mark an important turning point in Vietnam's efforts in strengthening its commitment to combat illegal wildlife trade and to close its own domestic ivory markets. At IFAW UK we've been working actively to help end the domestic ivory trade here – with Parliamentary Questions, petitions, supporter actions and even taking part and co-organising the Global March for Elephants and Rhinos.
So, will people listen?
The conference will finish with the issuing of the "Hanoi Declaration," which is a joint statement between the governments of 40 participating countries and it is hoped that it will contain a road map for closing domestic ivory markets and address the illegal trade in rhino horn, commit to better enforcement measures and reduce consumer demand.
There is a lot of work to be done on combating the illegal wildlife trade in the region and we hope that Prince William's visit will shine a spotlight on the issues and help find real and lasting solutions, before it's too late.
–DC
GD Star Rating
loading...
Article source: IFAW