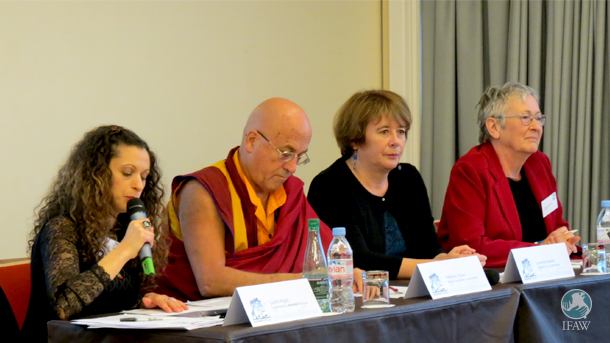 Today, during a press conference in Paris, an historical coalition of 26 French animal protection associations*, including IFAW, presented its manifesto "Animal Politique" destined to bring the issue of animal welfare up in the political agenda for the next presidential and legislative elections.
Thirty key propositions, easy to implement and centered on six major themes (farmed animals, experimental animals, entertainment animals, pets, wildlife and the place of animals in our society) are addressed to the candidates for the upcoming elections in 2017. The ambition of making animal welfare a decisive political issue is the reason why this collective was born in January 2016, on the initiative of MPs Laurence Abeille and Geneviève Gaillard.
During several months, IFAW worked alongside the other 25 animal protection organizations on the preparation of the manifesto, with particular attention paid to pets and wildlife issues. "Animal Politique" thus recommends granting to wild animals the status of living creatures with sensitivity, or creating assistance services for animals belonging to socially disadvantaged people or people suffering exclusion.
The manifesto already gathered support from many French celebrities, many of whom were alongside us for its presentation: the Buddhist monk Matthieu Ricard, Nicolas Hulot (film-maker of the USHUAIA documentaries and former Special Envoy of the French President for the protection of the Planet), the actress Hélène de Fougerolles, Yann Arthus Bertrand (photographer and film-maker of HOME and HUMAN), etc.
–MC
* The collective includes the following NGOs : Alliance Anticorrida, Antidote Europe, ASPAS (Association pour la Protection des Animaux Sauvages), Association Stéphane Lamart, C'est Assez !, CIWF France (Compassion In World Farming), CNSPA (Confédération Nationale des SPA), Code Animal, CRAC Europe (Comité Radicalement Anti Corrida), FLAC (Fédération des luttes pour l'abolition des corridas), Fondation Assistance aux Animaux, LFDA (La Fondation Droit Animal, éthique et sciences), Fondation Brigitte Bardot, Fondation 30 millions d'amis, FUDA, IFAW France (Fonds International pour la Protection des Animaux ), L214, OABA (Oeuvre d'Assistance aux Bêtes d'Abattoirs), One Voice, PETA France (People for the Ethical Treatment of Animals), Pro Anima, Sea Shepherd, SNDA (Société Nationale pour la Défense des Animaux), la SPA (la Société Protectrice des Animaux), 269 Life France, WELFARM.
GD Star Rating
loading...
Article source: IFAW