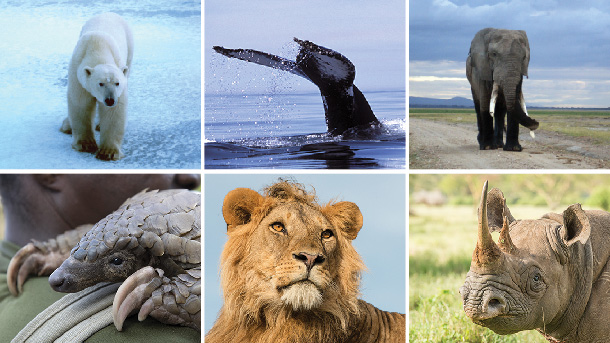 What's at stake
The fight to save animals is at a crossroads. At stake are many of the fundamental protections for wildlife here in the US and around the globe: Laws that save endangered species, and prevent the unnecessary killing of whales, dolphins and seals. Common-sense policies that keep our oceans, rivers, lakes and public lands free from pollution and unrestrained degradation so that wildlife can have a safe home. Regulations that prevent brutal and unsustainable trophy hunting of imperiled species like lions and elephants.
It's vital to protect conservation victories
In recent years – with your help – the animal welfare, wildlife conservation and environmental communities have spearheaded an impressive slate of victories: The US ivory trade ban, international agreements to face climate change head-on, new protections for critically endangered species, and vital federal legislative efforts to address wildlife trafficking. We have helped foreign, domestic and state governments wake up to the horrors of animal exploitation, and make real strides to combat them. But these victories – and the most basic laws that made them possible – are in jeopardy.
The next four years will determine whether we maintain – and build upon – the critical progress that has been made for animals and the environment we share with them over the past half-century, or whether they will be tossed aside.
We cannot give up the fight to protect animals and their habitats.
Animal protection is non-partisan issue
Compassion is not a partisan issue; IFAW has long worked with advocates from across the political spectrum to advance anti-wildlife trafficking measures, to stop poaching on-the-ground in Africa and Asia, to end the suffering of big cats in private ownership, to save stranded marine mammals on our shores, and much, much more. We have been leaders in these battles. We have also worked in coalition and partnerships to find creative ways to safeguard bedrock environmental laws and protect animals from those who would dismantle or undermine these essential protections. We will continue to do so.
We need you now more than ever
Most importantly, we have you on our side, along with the vast majority of Americans who know that this country is greatest when we speak for the voiceless – including animals.
Now is the time to join IFAW in saving the elephants, tigers, whales, and the thousands of other species that are the heartbeat of planet Earth and who face imminent threats to their very survival.
Preserve our hard-fought victories.
Persevere against challenges.
Protect wildlife around the world.
Fight with us.
–AD

GD Star Rating
loading...
Article source: IFAW