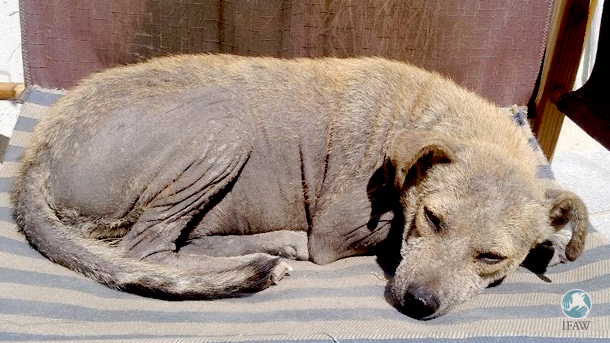 This story comes to us from Brian Bergman, Head Veterinarian at the Mdzananda Animal Clinic.—CP
Cutie has suffered through a lot, much of which has challenged her chances of ever being adopted.
Cutie first arrived at the Mdzananda Animal Clinic three years ago. She had lost her fur and suffered from severe mange. We did not believe that her hair would ever grow back because her mange was at an advanced stage. One of our animal welfare assistants fell in love with this hairless puppy and named her "Cutie."
To our surprise, after six months of mange treatment, her coat slowly started to return and within a year she had fully recovered.
It was always a mystery to me why she never found a home after her fur grew back. Some people said it was because of her piercing eyes. To me, her eyes were beautiful. Since no families wanted to adopt her, she joined our well-loved resident pack at the clinic.
Cutie was always the first one to greet you in the morning, and spent most of her days lying in the sunshine. Occasionally, volunteers even took her to a nearby beach for her walk. When new visitors, such as the school children who come to volunteer and learn about animals arrived, Cutie welcomed each one with her winning smile.
Six months ago Cutie tore her cruciate ligament and was in a lot of pain. We performed a surgery to fix the tear and she slowly started to recover. However, a month after the initial surgery I arrived at work to find her hobbling again. The cruciate material we used to do the repair had broken down, and we were back to square one.
At this point, one of our trustees, Gemma Driscoll, who used to work as a veterinarian at Mdzananda and who knew Cutie well, asked a specialist surgeon if he would consider doing the surgery to repair it again.
They agreed to do it for free!
The team at the Cape Animal Medical Centre also took on all of Cutie's follow up treatments free of charge. She was given weekly acupuncture treatments and homeopathic injections from Dr. Barry Hindmarch. Dawn Jones, an animal physiotherapist working at the Blue Cross Hospital in Newlands, took Cutie on as her welfare case and worked with her twice weekly for three months.
Cutie's leg has gone from something we considered amputating to a very functional leg all because of the generous support and post-operative rehabilitation efforts she received.
During her treatments, I decided to foster her at my home to ensure her complete recovery. As a vet at Mdzananda, I have maintained clear boundaries around the strays at our clinic (otherwise, I would adopt them all and have a pack of 20 dogs and 15 cats at my home). But, fostering an animal makes keeping those boundaries difficult. Cutie soon became an integral member of our household, and my partner and I decided that she needed to stay.
Cutie now enjoys her runs through the forest and on the beach and will climb mountains with her sister Sophie.
I love watching her personality grow over time. At Mdzananda, she was quiet and loving; people called her "cuddle pot."  Today, she is curious and playful, obsessed with butterflies and squirrels. Unfortunately, she also loves to roll in the smelliest things she can find.
Cutie's recovery success was an extraordinary example of people coming together to help an animal in need. At IFAW, we are committed to improving the lives of animals like Cutie around the world.
–BB

GD Star Rating
loading...
Article source: IFAW