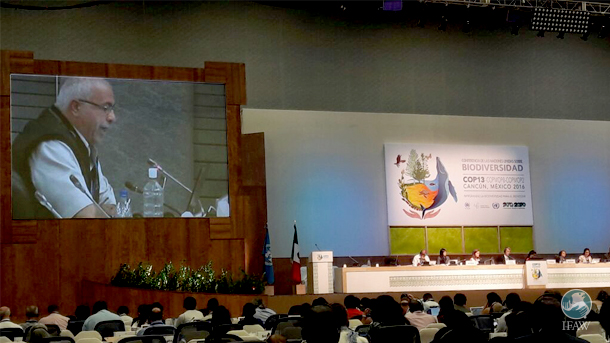 This week the Center for Biological Diversity (CBD) Conference of the Parties (CoP) opened debate on a wide range of proposals intended to protect biodiversity and ensure its sustainable use.
IFAW is advocating for decisions that align with our guiding principles and solutions that will benefit animals and people, including:
Tourism
Tourism can be an important tool for both biodiversity conservation and community livelihoods. But it must be developed responsibly. We encourage countries to make sure that:
local communities share the benefits of tourism,
profits are reinvested to ensure environmental sustainability,
ecologically sensitive tourist sites are properly managed, and
tourists are educated to minimize their footprint on ecosystems and species – particularly by avoiding the illegal taking or purchasing of endangered and threatened plants and animals.
Marine mammals
By-catch, the unintended catching of a species not targeted for fishing, is estimated to be the largest threat to whales and dolphins worldwide, killing 300,000 animals per year. IFAW recommended that the CBD address reducing by-catch of non-target and protected species, building on the International Whaling Commission's (IWC) new work to reduce the impact of by-catch on cetaceans by sharing best practice measures and improving coordination among fisheries management bodies.
Cetaceans should be recognized as an important indicator of the state of biodiversity conservation and critical habitats for marine mammals should be used to inform the designation of internationally protected marine areas.
Human-caused underwater noise has harmful impacts on marine and coastal biodiversity, particularly marine mammals. Fortunately, unlike some other marine threats, the impact of noise on marine biodiversity is eliminated immediately with the noise itself.
READ: WATCH: Sonic Sea. Scientists and stars call to save whales from noise
IFAW invites the countries to focus on reducing noise at its source, as this is more effective than other mitigation methods. With shipping, significant gains could be made by targeting the small proportion that make up the noisiest ships by retrofitting them with quieter propellers or rerouting their shipping lanes around important areas for cetaceans. For seismic and other impulsive sounds (e.g. pile driving) there is a need to employ new technologies that are quieter.
Biodiversity and climate change
Climate change is impacting the ecosystems wildlife and communities depend on for survival. IFAW echoes the IUCN on the importance of science-based assessment of climate change-related risks for imperiled species and ecosystems, and supports landscape conservation efforts that take an ecosystem-based approach to climate adaptation, mitigation and disaster risk reduction.
Biodiversity and human health
IFAW encourages governments to acknowledge the impact of illegal wildlife trade on security, safety, physical and mental health. In addition to the disease transmission threats illegal trade poses, the capture and transport of live species and biodiversity components across vast distances by transnational criminal networks threatens community security and wellbeing.
IFAW also invites further investigation of the links between biodiversity and mental health and wellbeing, including the non-use values of biodiversity that are not easily quantified in economic terms.
Invasive alien species
The transport of a wild species from one ecosystem to another, whether intended or accidental, can have serious consequences for native species.
Online trade of wildlife is one cause of species invasions that should be addressed by updating national laws to ensure that they specifically control e-commerce in wild animals and plants in coordination with the recent CITES CoP17 Decision on Combating Wildlife Cybercrime.
When it comes to control of invasive alien species, IFAW advocates the protection of biodiversity through the application of management programs that are precautionary, ecologically sustainable and humane.
Both biological evidence and societal values play a role in decision making, and IFAW advocates that animal welfare considerations for both invasive and non-target species, grounded in animal welfare science, be assessed along with other important considerations when determining how to manage invasive alien species.
Sustainable wildlife management
IFAW highlights the negative impacts of illegal wildlife trade and the need to enhance enforcement. Given the severity of the current poaching crisis, which is becoming a leading cause of decline in some species, we would advocate for it to feature more prominently in government decision making. Communities have a central role to play in preventing illegal killing and capture of endangered species, and law enforcement efforts must engage local communities as active partners.  
Increasing access to sustainable livelihood opportunities that reduce the incentive to poach or support poaching is essential. In light of the ongoing species decline documented in the IUCN Red List, IFAW emphasizes precaution when assessing what types of biodiversity use, of which species, in which areas, and in what numbers, are truly sustainable.
We look forward to sharing positive outcomes with you as the Conference of the Parties here in Mexico concludes.
–AD

GD Star Rating
loading...
Article source: IFAW