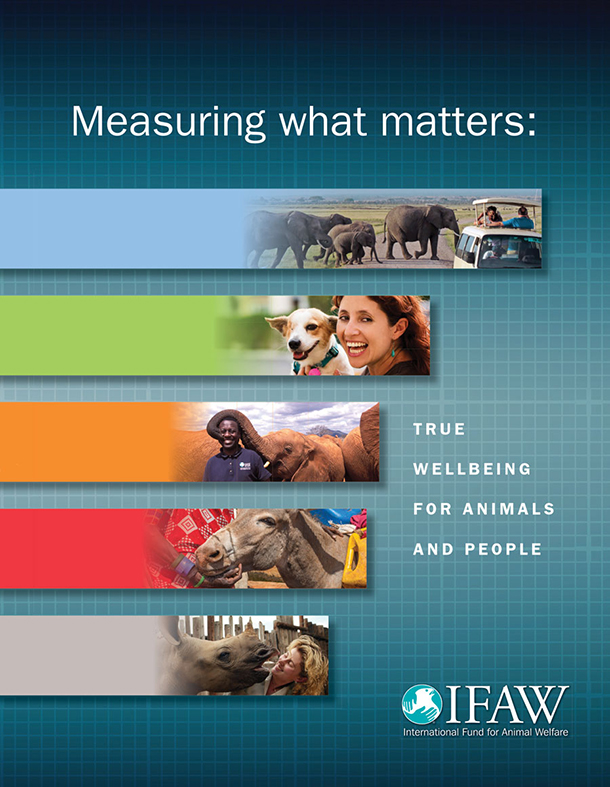 For the last week, the International Fund for Animal Welfare (IFAW) has been here at the Convention for Biological Diversity (CBD) meeting in Mexico to speak for the animals.
With the theme being "Mainstreaming Biodiversity for Wellbeing," it is the perfect place and time to launch IFAW's new report "Measuring What Matters: True Wellbeing for Animals and People," with delegates from more than 100 countries and observers from organizations interested in biodiversity and human wellbeing policy.
Today, IFAW representatives with the help of an expert panel presented our new report along with case studies on how wild animal welfare and conservation benefit people and have made communities better off around the world.
We tend to increase the things that we measure, so it's important to make sure we are measuring what we truly value. While GDP has been the predominant measure of a country's progress , there is a trend toward measuring other dimensions of wellbeing that are important to us, since measurement is the first step toward getting them protected and improved.
For instance, we know that our current system values short term economic activity over sustainability and broader human wellbeing. It counts developed land towards Gross Domestic Product (GDP) but not wild places that serve as habitat for wildlife.
Using the country of Bhutan's measure of "Gross National Happiness" as a framework, this report examines a variety of dimensions of human wellbeing: psychological wellbeing, time use, community vitality, cultural diversity, ecological resilience, living standard, health, education, and good governance. In the report we cover other countries and regions that are looking at alternative indicators as well.
Already, a number of international agreements are beginning to recognize the importance of these alternative measures, including the Convention of Biological Diversity that we are addressing at this meeting, which recognizes the intrinsic value of biological diversity and has set as its long term goal a world in which biodiversity is "valued, conserved, restored and wisely used, maintaining ecosystem services, sustaining a healthy planet and delivering benefits essential for all people."
A truly healthy economy for the long-term is not only socially just but also ensures fair access and benefit sharing of natural resources. It must respect and protect the ecological integrity of nature and be guided by ecological and biological sustainability, the ethical treatment of animals and the precautionary principle. While we may "use" nature to some extent, we have a responsibility to do so with great care.
In the report we talk about all animals and people – companion animals, farm and working animals, and wild animals – but since we are at a forum that is concerned with wild animals and biodiversity, our panel focused on wild animal welfare, conservation and human wellbeing and explored ways in which good wild animal welfare and conservation contribute to health, community vitality, and cultural and spiritual satisfaction through case studies of communities in Malawi, Tanzania, Mexico and Trinidad and Tobago.
We were so fortunate to have Shawn Sweeney (Jane Goodall Institute), Nadra Nathai-Gyan (Zoological Society of Trinidad and Tobago) and Fernando Ochoa (Pronatura Noroeste) join us for this panel to share their experiences on the ground with projects that benefit both wildlife and people and the communities in which they live.  
The event was a great success with standing room only attendance and a robust question and answer session. We hope the excitement in the topic continues to build among policy and decision makers and with anyone who values animals and human happiness wellbeing.
As you know, we are losing elephants as we speak – along with rhinos, tigers, and countless other species – because of development of their habitat, trade in their parts or other human exploitation in the name of growth and "progress." Our current global system doesn't value animals, people or the planet over economic growth yet. We need to move toward a system that measures and promotes the wellbeing of animals as well as the wellbeing of people and the planet – because what's good for them is ultimately good for us.
And we need it before it is too late for the species we love. That doesn't mean we need to stop growing. We need to measure and encourage growth of happiness and wellbeing, not just blind growth of our economy without understanding the cost to people and the planet.
—BA
GD Star Rating
loading...
Article source: IFAW