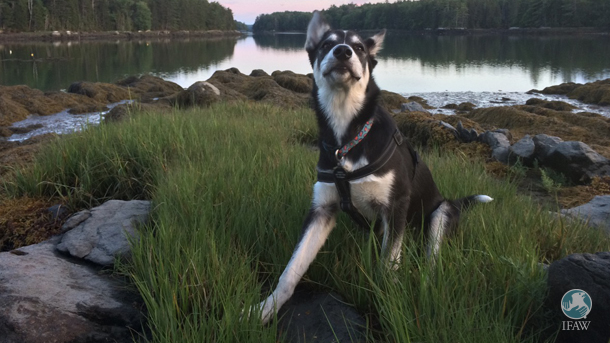 One of the highlights of the Northern Dogs Project is hearing about the dogs who come from the north and find loving families in the south of Canada. While we work hard to ensure that dogs in the north stay in the north, sometimes dogs are injured or given up for adoption – and the folks who welcome them into their homes are pretty lucky. It seems a shame to keep those stories to myself so we decided to share them.
Bashu is now now sharing his life with Zoe and Simon. Zoe picks up the story from here:
I had been dreaming of having a dog in my life for what seemed like the better part of three years. The six beautiful rescue dogs with whom I spent the summer of 2015 in Virginia had me stopping at various shelters on the way back home to Toronto that September. As two graduate students, my partner Simon and I set the timing for the end of my final term, the early summer of 2016 when classes ended and writing began.
We knew we wanted to adopt, we knew we wanted a mutt.
By early April searching became a method of procrastination. I kept promising myself I would wait till the end of June to really start looking.
One weekend at the end of April, a pup named Bazooka appeared on our screen: Husky mix, from the North, just over two months old, too cute for words. And yet his description was unlike the others I had been reading. It was obvious to me that he was special.
After submitting the first draft of my thesis, I submitted a request to meet him. I remember saying to Simon "remember we can say no if he is not our dog." Four days later we met Bazooka. Jan introduced us and he immediately occupied himself by setting out to investigate the grassy patch near to where we were standing. I had never met a puppy with such independence, confidence and curiosity. He was our dog.
Over the first two weeks Bazooka became Bashu, was house- and crate-trained and had a pretty good sense of walking both on- and off-leash. Together we learned where all the best dog parks were, from west to east in Toronto. From the beginning, he was one of the popular dogs at the park and now has many friends in different parts of the city. He excelled at his training, and we learned that although he had one of the most mature temperaments in the room, he is playful, fun and most of all eager to please (a real teacher's pet).
Throughout the hot summer we got to know each other. Although Bashu is not very talkative for a Husky, he does let us know his need and he quickly taught us that he prefers to spend his evenings outside on our balcony, looking out at the neighborhood. His disposition has always been one of the first things that people compliment him on — after his looks, of course!
Last July Bashu and I took a long trip to see family in Maine. We drove over two days, just he and I. Despite a slight dislike of the car, he was a fabulous companion. Camping and hiking and stopping in various places for food. He is now my favourite travel buddy. Everywhere we take him—the ocean, beach, forest, small towns and big cities—he adapts naturally. On our longer walks he always leads the way. My mother remarks at his good manners, as he always seems to stay on the path, making sure we are in sight, waiting for us to catch up if he has gone ahead.
As he grew into a young boy last summer, he would unleash his wild side by the water, running in circles and barking as he gulped down water. Many summer evenings were spent throwing sticks into the water to ease him further in. We found out early on that Bashu is a wader. Mostly he stuck by the shore to chomp on lily pads and run circles through the sand.
As Bashu grows from a pup into a young dog, he is becoming more and more cuddly and attached to us both. We continue to take him with us most places we go, from city dog parks, ravines, the subway, art galleries, and restaurant patios, to day trips outside the city. He remains extremely friendly to people, and has a local pack he is used to seeing at the end of the day, and wags his tail when he greets them. To our pleasure, he remains curious of blowing leaves, birds flying, planes, trains, Simon's whistle, squirrels, the rain and the garden hose. These are all things that he tilts his head for, and watches eagerly.
Even during his seven and eight-month old teenage phase, when he started sleeping in, sighing loudly and sulking when we spent too much time working on the computer, Bashu was never anxious and always present. Everyone agrees he is playful, loving and wise. We feel he has an old soul and that it draws us all together: friends, parents, extended family. His spirit has made our family bigger.
The name Bazooka became Bashu through us playing with sounds that he responded to. After it stuck, curious to the meaning of the name we had given him, we learned the etymology is from Latin; basio, kiss. And in Arabic the name Bashu means cheerful one.
–JH

GD Star Rating
loading...
Article source: IFAW