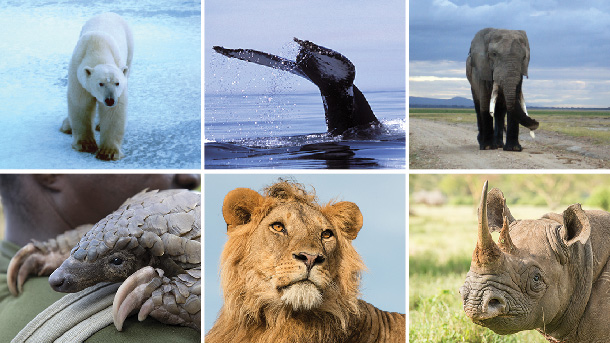 Our campaigns to protect animals yielded some lasting victories on the policy front, internationally and domestically. Here is a brief roundup:
EC Launches New Wildlife Trafficking Action Plan
The European Commission and Dutch Presidency of the European Union launched an intergovernmental European Action Plan against wildlife trafficking. The announcement follows more than three years of IFAW campaigning and provides a strong framework for European countries to step up their role in this global fight against illegal wildlife trade.
US, France Restrict Ivory Sales to Save Elephants
The US Government finalized new legal protections for African elephants, culminating a series of loophole closures that will squelch illegal ivory trafficking in the US, and France announced a complete ivory ban. The US action was preceded by progress at the state level. Following close on the heels of ivory and rhino horn bans in New York and California, Hawaii instituted massive restrictions on wildlife trade.
IFAW Protects Endangered Species at IUCN, CITES Meetings
At IUCN, IFAW spear-headed a resolution protecting pangolins, the world's most trafficked animal. At CITES, INTERPOL and IFAW announced a much anticipated cooperation on IFAW's tenBoma initiative in Kenya and all eight species of pangolins, Barbary macaques and parrots were all uplisted to Appendix I and a variety of species of sharks and rays garnered Appendix II protections. A proposal to allow trade in rhino horn was defeated and Our Youth Forum for People and Wildlife leading up to the CITES CoP gathered together 34 youth delegates from all around the world to network among themselves and be mentored and inspired by current conservation leaders.
Pangolins, African elephants warrant ESA listing consideration
The US Fish Wildlife Service found that both a petition to list African elephants and a petition to list all unlisted species of pangolins as Endangered under the US Endangered Species Act warranted a status review. The pangolin petition focuses on the seven unlisted species of pangolins, and was filed jointly by IFAW and other NGOs.
US bans captive lion trophy imports from South Africa
The US Fish and Wildlife Service (USFWS) took a bold step in disallowing any lion trophy imports taken from captive lion populations in South Africa. Without a scientifically sound species management program that shows clear benefits to conservation, canned hunt lion imports will not be allowed into the United States.
National Wildlife Crime Unit saved from extinction
After extensive lobbying by IFAW and other NGOs, we secured the funding was secured for the National Wildlife Crime Unit in the UK until 2020—the longest funding security the unit has ever known.
Presenting a social contract for land conservancies to protect elephants
In the days before the first-ever Giants Club Summit gathering African nation leaders to discuss the elephant crisis before the historic Kenyan burn, IFAW convened conservancies to discuss the urgent need for stronger community action and draw up a 'social contract' to protect elephants.
Wins for whales in Australia
IFAW won its legal action against NOPSEMA the offshore petroleum industry regulator, obtaining access to important assessment documents about oil and gas exploration and the risks to whales and other marine life off Kangaroo Island, South Australia. IFAW worked toward the cancellation of plans to drill for oil in the Great Australian Bight (GAB), an important nursery area for southern right whales. IFAW worked to highlight the risks of oil exploration to whales in this region, including conducting the first ever acoustic survey in the GAB. 
–AD
GD Star Rating
loading...
Article source: IFAW