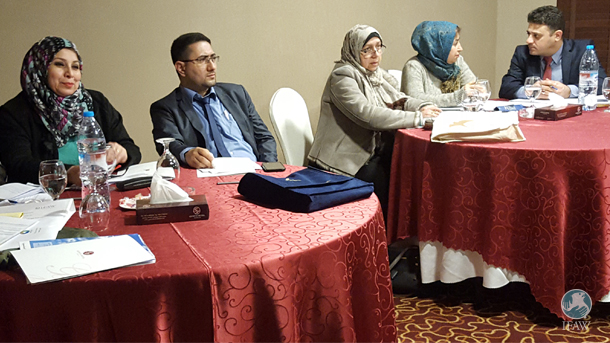 Since the Republic of Iraq joined CITES in 2014, Iraqi officials have had an urgent need for increasing the country's capacity to implement the requirements for CITES Convention membership, namely controlling Iraq's border points to prevent wildlife trafficking.
IFAW received a formal request from the Ministry of Environment in Iraq to carry out a training workshop for eight Iraq officials so they can continue to implement  CITES' programs in Iraq.
The workshop was held in Amman, Jordan in cooperation with the Royal Society for Conservation of Nature.
A CITES Management team of eight, together with leaders in the scientific community, attended a four-day training course on wildlife trafficking and CITES implementation. Shatha Khalaf, General Director of the Technical Department in the Ministry of Environment, also attended the event and extended her thanks to IFAW for its support and interest in helping Iraq, noting "IFAW is the first organization to take interest in Iraq."
The training was an overview of CITES and how to implement the program. It also covered commonly traded species in Middle East –  including big cats, primates, reptiles and birds – cases of wildlife trafficking, smuggling techniques and how to identify the species using the CITES Identification guides produced by Environment Canada.
There is an ongoing discussion on how to best support Iraq in drafting national legislation. IFAW will continue to contribute and organize additional CITES workshops for Iraqi officials, and Khalaf promised her team will also  help further work done by the CITES convention in Iraq. IFAW is honoured to help Iraq increase its ability to combat illegal wildlife trade.
–AD
GD Star Rating
loading...
Article source: IFAW