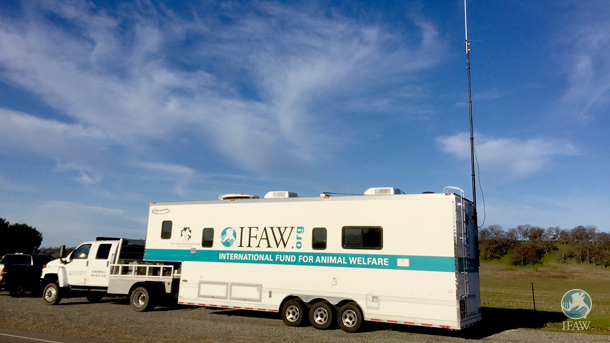 North Valley Animal Disaster Group (NVADG) is part of the International Fund for Animal Welfare's Emergency Relief Network (ERN) here in the United States. NVADG is an all-volunteer group that works with emergency services to provide animal rescue, evacuation and sheltering in times of disaster. NVADG vice president Norm Rosene, a valued IFAW contractor who has instructed our ERN members in India, Southeast Asia and the US numerous times, submitted this blog on the actions taken in response to the Oroville dam evacuation.–SW
Because of the erosion witnessed on a main spillway, and the potential for catastrophic failure of the largest dam in the US, the City of Oroville and other cities directly downstream from it were evacuated. In total, more than 180,000 area residents were given one hour to gather belongings and head for higher ground.
Some never made it home to retrieve items or pets due to the lack of time and gravity of the problem.
At the same time that the notice of evacuation went out, Butte County activated and deployed NVADG, which responded to the disaster immediately, working with animal control officials to set up both large and small animal shelters at a local fairground.
NVADG evacuation teams staged equipment at the Incident Command Post (ICP), and began deploying teams to the affected cities. Using a specialized mobile command trailer provided by IFAW, NVADG volunteers fielded over 450 requests for services from the public in 24 hours.
Up to 10 two-person specially trained evacuation teams were in the field at any one time. Rescued and evacuated animals were transported to the fairground shelters where they were checked in, and housed. Local veterinarians provided any necessary care or treatment. The shelters' animal population swelled to nearly 250 animals within twenty hours of the disaster evacuation. Those animals included dogs, cats, parrots, rabbits, guinea pigs, cows, goats, lambs and chickens.
NVADG will continue animal evacuations as requested, and will shelter animals in place until the evacuation order is lifted and the displaced residents can return to their homes.
I grew up fishing and waterskiing on the lake. The idea that the dam could ever fail never crossed my mind. But we know now that the current situation is dire.
Partnerships like IFAW's ERN make rapid responses to disasters possible, and help decrease and diminish both animal and human suffering.
–NR

GD Star Rating
loading...
Article source: IFAW