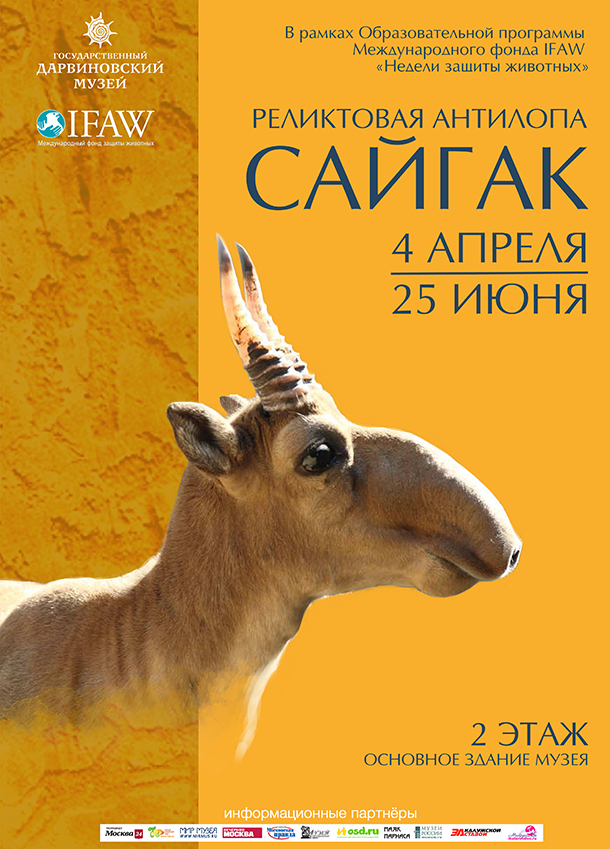 The elephant's trunk, the giraffe's long neck, the tiger's stripes, the kangaroo's pouch…
We are no longer surprised by the appearances of these animals. However, there are still many other animals on our planet, whose beauty and originality create admiration and even astonishment.
A typical example is the saiga antelope with its strangely shaped nose. Saigas are well known in the countries of Central Asia, but for many people in Russia, Europe, America, or Australia, these animals rather are more reminiscent of some cartoon characters or heroes of science-fiction films.
For more than 25 years, the International Fund for Animal Welfare (IFAW) has organized an annual educational programme for children and their parents in Russia.
This year, the programme was focused on the unique ungulate of Eurasian steppes, the saiga! Thousands of schoolchildren across Russia will learn about this unique animal.
The exhibition "Saiga: Fossil Antelope," which is currently being hosted by the State Darwin Museum from April 4 through June 25, 2017, is expected to be visited by more than 60,000 people who will have an opportunity to learn about this amazing ungulate, see unique photos and video films, and enjoy the creativity of young artists caring for the saiga's future.
Why is the saiga antelope a "relict"? ➡️ This weekend is the opening of a new environmental exhibit called "Relict Saiga Antelope" at the State Darwin Museum in Moscow! For more than 25 years, we've been carrying out an educational program for children and parents during Animal Protection Week, and this year the final exhibition is dedicated to this unique hoofed animal from the Eurasian steppes! So why a "relict"? The saiga can rightfully be called a "living fossil." It is one of the oldest representatives of mammoth fauna, the beginning of which was observed in the Pleistocene epoch about 60,000 years ago. Saiga lived side by side with mammoths, tarpans, woolly rhinoceroses, saber-toothed tigers and cave bears… and they're still here today!

A post shared by IFAW (@action4ifaw) on

Apr 9, 2017 at 5:54am PDT
In 2012, together with the film crew of the ZOO TV channel, I visited the Stepnoy State Nature Reserve, which is a home to around 3,000 saiga antelopes. The footage from that trip resulted in a three-part film, Saigas: Vanishing Beauty. It was the only chance I have had to meet saigas.
I was very impressed by these fragile animals and their vulnerability. In ancient times, they lived alongside the woolly mammoths and sabre-toothed tigers, but the saigas used their speed as their main means of defence and are therefore still surviving today. Being just a little slower than cheetahs, saigas are able to attain a speed of up to 80 km per hour. They also have a high reproductive rate; females can breed as early as at the age of 7 to 8 months.
Unfortunately, saigas are not able to run away from the technology of poachers. Male saigas now comprise only one percent of the wild population of saigas because the males are selectively hunted for their horns, which are used in traditional medicine. Most females will never have a chance to reproduce.
Saigas are currently the fastest mammals in the world in terms of the rate of decline of their populations, which has reduced by 90 percent in the past ten years.
IFAW supports the Stepnoy Sanctuary, providing funding for poaching patrols and wildfire abatement.
For more on our work at Stepnoy:
Stepnoy saiga populations hopeful to rise with successful rutting season
Saigas: While record die-offs happen afar, brigades protect foals on Russian steppe
Protecting saigas in Russia's Stepnoy Sanctuary
Saiga sanctuary to be featured in "Our Planet" series
–EZ
GD Star Rating
loading...
Article source: IFAW