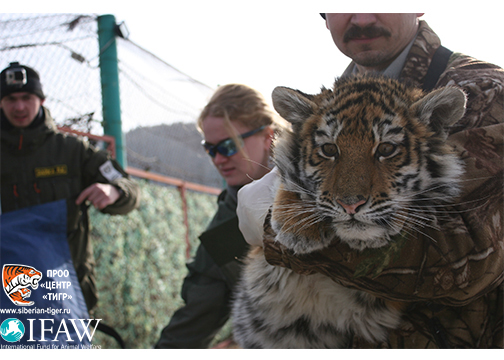 A rehabilitated Amur tiger named Filippa was released into the wild today. A total of seven tigers now have been released into the Far East of Russia to rebuild the species population in the area.
In late 2015, Filippa first arrived at the International Fund for Animal Welfare-supported Primorsky Regional Non-commercial Organization Center for Rehabilitation and Reintroduction of Tigers and Other Rare Animals (PRNCO Tiger Center) as a small, frightened cub, rescued by villagers in the Khasansky District of Russia. It is suspected her mother was poached, leaving the small cub to survive on her own.
The villagers rescued her and delivered her to PRNCO Tiger Center to be rehabilitated. She responded well to her care and soon grew into a clever hunter.
Filippa had developed the necessary skills, such as hiding prey from scavengers and interacting with fellow tigers, during her rehabilitation. She was transported to her release site in the Jewish Autonomous Oblast (Region).
The location for the release was specifically chosen for her based on IFAW-funded research. In the framework of this research, a list of suitable locations for release of rehabilitated tigers was determined and submitted to the government. The Federal Supervisory Natural Resources Management Service selected the Dichun Regional State Nature Sanctuary for Filippa's release.
It makes me happy to know that we are involved in this important work. We hope that Filippa will have a long and happy life in the wild.
Ekaterina Blidchenko, a zoologist with PRNCO Tiger Center, has provided care for Filippa since her rescue. She knows the first few weeks after a tiger is released are critical to success. The tigers must adjust to independent living and use the survival skills they learned during the rehabilitation process.
"Knowing how well Filippa learned to deal with challenges, we would like to believe that she will find her place in the wild," said Blidchenko.
Filippa will continue to be monitored post- release by the Department for Conservation and Management of Wildlife Resources of the Jewish Autonomous Oblast government from the tracking collar that was fitted on her before the release.
-MV
GD Star Rating
loading...
Article source: IFAW