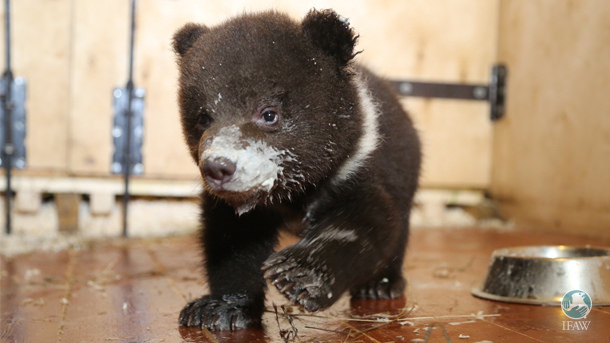 The following blog has been submitted by Maria Kuczkowicz, a Polish veterinarian volunteering at the Orphan Bear Rescue Center. –MV
The bear cubs are basking in the sun, running through the undergrowth, discovering new ground, playing with each other.
While they spend their nights in the forest house, in the morning they start playing, racing between the trees.
They are learning how to identify the forest delicacies on which they will survive, even though they still get warm milk three times per day.
Soon, we will start reducing our feedings. Instead of the milk, we'll be leaving food on the ground, and the feeding will diminish to once per day.
Eventually, the gate of the enclosure will be left open, and the bears will be allowed to go looking for food in the adjacent forest. This can be a dangerous time of exploration for them, but it is necessary in order to teach them how to avoid bigger predators and find natural food.
A few weeks before release time, we'll scatter apples throughout the enclosure once a week. If the bears rarely come back to the enclosure, it means that they are finding enough food for themselves and are ready for the looming release date back into the wild.
–MK

GD Star Rating
loading...
Article source: IFAW