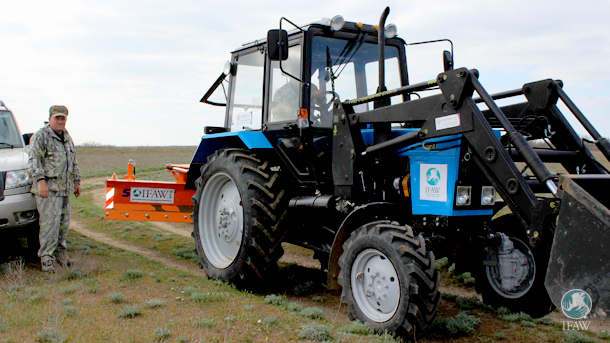 This blog comes from Vladimir Kalmykov, Director, the Regional State Nature Sanctuary Stepnoy, the Astrakhan Region. –MV
Every year when the beautiful flowering spring steppe is turned by the scorching sun and strong winds into a yellow, dry and prickly space, it signifies approach of a terrible time for the steppe inhabitants – the fire season.
To prevent fires or at least try to minimize their consequences on the wildlife that lives here, namely saiga antelope, the staff of the Stepnoy Sanctuary clear out roads and create fire lines.
Every year, my staff had to scramble for tractors and graders all over the place. When a fire broke out, it was not always possible to find the necessary equipment in a timely fashion.
There was also the expense of renting the equipment. Financial assistance for renting this equipment was provided by the Service for Natural Resources Management and Environmental Protection of the Astrakhan Region and our long-time friends from the International Fund for Animal Welfare (IFAW), who during the entire existence of the Stepnoy Sanctuary extended its help to us.
READ: Fighting fires to protect saiga foals
This year the equipment situation was finally resolved.
Before the start of the fire season the Stepnoy Sanctuary received an MTZ 83 tractor with a frontal loader and tow grader, thanks to IFAW. Now we are fully ready for any turn of events, and most importantly ready to defend the Sanctuary's territory and its inhabitants from possible fires.
Thank you, IFAW!
–VK

GD Star Rating
loading...
Article source: IFAW