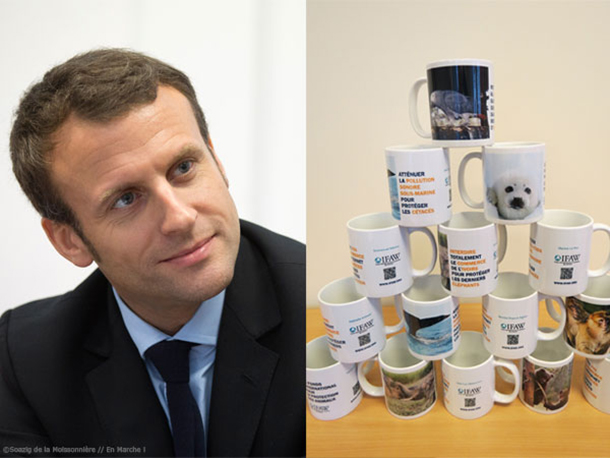 As the French presidential campaign just came to a close with the election of Emmanuel Macron as the next president of France, we wanted to highlight IFAW's work during these several months of presidential campaigning to spread awareness of animal welfare and conservation.
Since a recent poll showed that no less than 4 out of 5 French citizens (80%) registered on voter lists considered that animal welfare was a major issue, IFAW took the opportunity of this political turning point to reach out to the candidates on this topic.
Consequently, we produced a manifesto which presented five IFAW priorities we wanted the next French government to which to commit. Fourteen concrete and easily applicable measures were detailed in the document, for each major campaign we are working on: fighting against online wildlife trade, improving confiscation of endangered live animals from trafficking, ending the ivory trade, reducing underwater noise pollution and teaching animal ethics to create responsible citizens.
This manifesto was sent to each of the presidential candidates along with a set of mugs representing our priorities with an animal picture. We asked the candidates to commit themselves to our measures by sending back a formal response.
Emmanuel Macron wrote us back a letter, in which he explained that all of our 14 measures were of crucial importance to him, even though he didn't expand on specific measures.
Emmanuel Macron's team particularly emphasized his will to end online endangered wildlife trade, to take charge of confiscated live animals from trafficking and to teach animal ethics in school to create responsible citizens.
According to his team, the creation of a temporary holding facility for confiscated live animals and the strict implementation of the EU Action Plan against wildlife trafficking would be a priority.
IFAW will ensure that Macron's new government will implement these measures during the next five years.
IFAW France was also part of a coalition of NGOs whose aim was to bring the issue of animal welfare up in the political agenda for the presidential and legislative elections. This coalition presented its own manifesto to the candidates, with 30 measures around various animal welfare themes (farmed animals, animals exploited for experimentation, animals used for entertainment, pets, wildlife and the place of animals in our society). 7 out of 11 candidates replied to this manifesto, including Macron.
He committed to granting to wild animals the status of living creatures with sensitivity and to strengthen the national/international legislation regulating endangered wildlife trade by, for example, supporting initiatives in Africa and Asia to fight against poaching and wildlife trafficking.
Thanks to this coalition, animal welfare was recognized as an important theme in the presidential campaign by most of the candidates, on which they felt the need to express their views to meet voters' wishes.
IFAW will continue promoting the manifesto for the coming legislative elections which will take place on June 11 and 18 in order to gain critical support in the Parliament.
–AM
GD Star Rating
loading...
Article source: IFAW