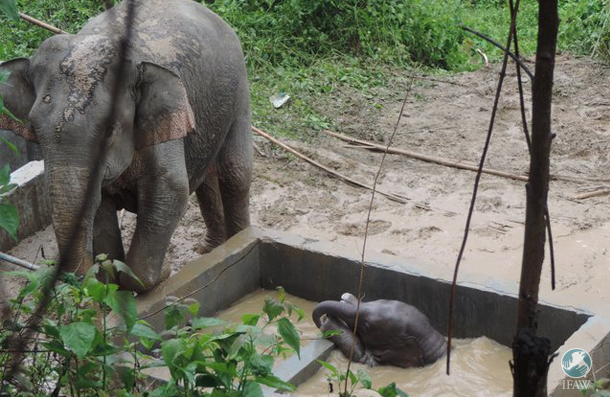 The cries of an elephant calf stuck in a water tank near the outer edge of Pakke Tiger Reserve in the northeastern state of Arunachal Pradesh drew the attention of nearby residents, who investigated the sound early in the morning on May 21, 2017. They found the calf inside the water tank with its mother nearby, trying in vain to extricate it. The forest department was called and asked the IFAW-WTI unit based at Pakke to provide necessary assistance and expertise for the rescue.
The mother was sedated so the rescue team could approach the calf safely. Divisional Forest Officer Tana Tapi, Deputy Ranger Tado and frontline staff accompanied MVS veterinarian Dr. Rinku Gohain and animal keepers Doluk Dagang and Biri Aman to the village at around 6.00am.
The team's first attempted to gently remove the calf from the tank manually was unsuccessful. The walls of the tank needed to be partially broken down and then dirt deposited into it to help the calf gain its footing. Eventually, the calf was able to make its way out and back to its mother. Once she woke up and recovered from the sedatives, she and her calf walked off into the jungle, to the joy of all onlookers. 
The rescue operation took two-and-a-half hours to complete.
It is stories like these where residents work with local government officials and IFAW-WTI experts that demonstrate the success of our efforts to mediate peaceful solutions for wildlife and humans who live in close proximity to each other.
–RG

GD Star Rating
loading...
Article source: IFAW