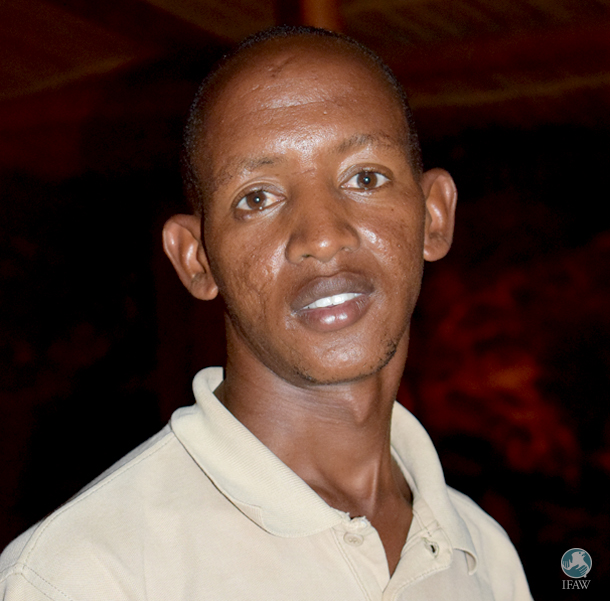 When I meet Jonathan at the Amboseli Serena Lodge where he works, it is almost 8 pm; he just knocked off for the day. He is in his first week of internship at the Lodge's tourism and transport department and is one of the 60 students that IFAW is sponsoring to acquire an education.
He has completed his tuition of a two-year Diploma course in Tourism and Wildlife Management at the Wildlife Clubs of Kenya and is now on a mandatory three-month internship.
Jonathan is polite, speaks in a low tone and is reserved. This demeanour is in contrast to the determination and hard work he has shown. He is one of 20 children. Jonathan had to work extra hard to make it in life as his now deceased father could only afford to take three of his children to school.
Jonathan first dropped out of school in 2009 when a severe drought befell Amboseli leading to the loss of his father's cattle herd.
Jonathan stayed out of school for most of the year. As he was meant to sit his end of high school national exams the following year, his teachers sympathized with his predicament and allowed him back despite not paying his fees. They also made time in their schedules to offer him private tutoring to ensure that he caught up with the school work he had missed.
On completion of his high school studies, he could not proceed to college or university due to lack of resources and opted to travel to Kenya's capital, Nairobi, in search of work. He was offered a job as a night watchman in an affluent neighbourhood.
His determination and hard work is evident when he informs me that using his meagre earnings, and since he worked during the night, he opted to use his day time productively and enrolled in computer skills and driving courses. "I knew these [courses] would come in handy in my future," he said in his characteristic shy manner.
When he was finished with these courses, he also undertook a three-month tour guide and administrator course.
He says receiving the IFAW scholarship was a "chance happening" and "lucky break". He was not aware of the IFAW scholarships and only came to hear of them from Daniel Leturesh the Chairman of the Olgulului/Olalarashi Group Ranch (OOGR) who was aware of his plight.
He began his studies at the certificate level and received a distinction in his first year before proceeding to study for his diploma. He hopes to graduate in December 2017.
His ultimate dream is to open his own tented camp or tourism lodge in Amboseli. As a member of Kitenden Corridor Conservation Area (KCCA) he has received the lease fees every year since 2012 which has helped him take care of his wife and two young children.
–JN

GD Star Rating
loading...
Article source: IFAW