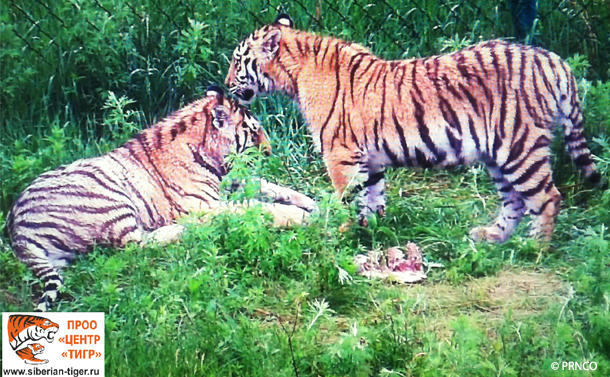 Amur tiger cubs Saikhan (formerly Yarik) and Lazovka, undergoing rehabilitation at the Primorsky Regional Non-commercial Organization "The Center for Rehabilitation and Reintroduction of Tigers and Other Rare Animals" (PRNCO Tiger Center), have started to successfully hunt small prey and are now fully familiarized with the larger enclosure that they got access to after Filippa was released.
They actively wrestle and play. Their games are becoming more complex and include hunting elements such as tracking, approach and attack.
It was only very recently that the two cubs had their first quarrel, but it was a minor conflict.
In the summer months, the tiger cubs will start hunting ungulates, a new stage in their development.
–MV

GD Star Rating
loading...
Article source: IFAW