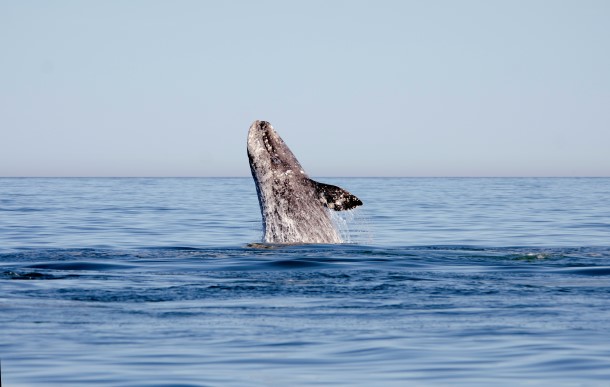 This World Oceans Day, the United Nations has convened the Ocean Conference to drive forward ocean conservation over the coming decade, in line with the ocean-related targets in the Sustainable Development Goals.
All member governments of the United Nations have agreed to 17 goals to end poverty, protect the planet and ensure that all people enjoy peace and prosperity by 2030.
Those targets include action to address marine pollution and to protect ocean ecosystems. The IFAW team is in New York this week at the conference and has been working hard to ensure the conference outcomes deliver for marine life. While there has been much focus on important issues like plastic pollution and fisheries sustainability, we wanted to make sure that other issues of critical importance to marine mammals, like underwater noise pollution and ship strikes, get the attention they need.
We've been working with like-minded organisations to make sure these issues are reflected in the declaration by governments that will come from the conference. The conference also offers the opportunity for NGOs, international organisations, scientific institutions and industry to make their own commitments to help protect the oceans. As part of that process, IFAW has made a number of commitments, including working with partner NGOs and industry to address ocean noise pollution and further rolling out of IFAW's Whale Alert App, which helps prevent ship strikes.
Industry has an incredibly important role to play in protecting whales and other marine life from threats related to shipping. In the US we've been pioneering a corporate responsibility programme to protect endangered North Atlantic right whales from ship strikes. This World Oceans Day we're highlighting the best performing shipping companies, COSCO and MSC, as great examples of industry leadership in tackling these problems.
Our oceans are filled with mysterious and wonderful creatures, but today marine species are facing more threats than ever before, many of which are caused by human activity. Two of the most significant threats are linked to vessel activities: ocean noise pollution and ship strikes.
Underwater noise pollution is an emerging and disturbing threat, all the more so because it is insidious and invisible. Whales, dolphins and numerous other species of marine life rely primarily on their sense of sound to survive; they use sound to communicate and find mates, navigate, locate food and avoid predators. With the expansion of human activities on the surface of the sea and underwater, increasing levels of noise are now drowning out the ocean's natural sounds. Every day, marine animals endure the cacophony of millions of noisy ships and other human-generated noise pollution, and they can't turn down the volume.
Collisions with ships, or ship strikes, constitute another huge threat to marine species, and in particular to large whales. In the last few decades, both the number of ships and the speeds at which ships are able to travel have increased. As a result, the risk of ship strikes and injuries to whales has also increased greatly, especially where shipping activities overlap with important whale habitat. A collision can result in horrific and serious injuries, and for those whales that are not killed immediately, a strike may lead to a slow and painful death.
IFAW is working to reduce both ocean noise pollution and the risk of ship strikes to whales in the following ways:
IFAW campaigned successfully for underwater noise to be recognised and regulated as a form of pollution in the EU Marine Strategy Directive, which was adopted in May 2008. This Directive was the first international legal instrument to explicitly recognise underwater noise as a pollutant that must be controlled by member states to achieve Good Environmental Status in EU waters by 2020.
IFAW is currently working with shipping companies and ports to reduce ocean noise pollution by encouraging industry to incentivise quieter ships, maintain extra-slow steaming practices for their fleet and to implement guidelines set out by the International Maritime Organization (IMO) for reducing underwater noise. To reduce the risk of ship strikes, we are asking shipping companies to adopt routing changes around specific high-risk whale areas and to reduce speeds in these areas when re-routing is not an option, and we are raising awareness of this issue within the shipping industry.
Ocean health means health for humankind. It has never been more urgent to save our oceans and their inhabitants. Let today's World Oceans Day remind us that marine life needs our help.
–AM
GD Star Rating
loading...
Article source: IFAW