In May I traveled to Bosnia and Herzegovina (BiH) to help conduct a series of veterinary trainings. These trainings are a small piece of IFAW's Humane Community Development (HCD) program, which helps communities create safer and healthier conditions for dogs in human communities. IFAW is collaborating with the United Nations Development Programme (UNDP) to conduct HCD projects in six communities across BiH.
Being a Mexican veterinarian working with underprivileged communities, I can tell you that the dogs I met in Bosnia are not very different from the ones I find at my home in Playa del Carmen, Mexico. The roaming dogs in both communities are fond of people, and vice versa. These pups are always seeking people´s attention, scratches, and of course food.
Some other dogs are skittish and wait until no one is around to come close to a food source. Whether in Mexico or Bosnia, these nervous dogs have experienced poor treatment or abuse or are fearful of humans because of a lack of socialization.
In both countries, sterilization of roaming dogs is important to decrease the chances of unwanted animals being born in a community.
People who themselves have experienced difficult situations are more likely to empathize with animals who are experiencing hunger or lack of shelter. Even with low resources, these people who love animals try to do their best within their means.
People in BiH have withstood many hardships over the last several decades. When visiting the Historical Museum of Bosnia and Herzegovina in Sarajevo, I was able to get a sense of what people must have felt during the civil war, which ended in 1995. Gazing at pictures from wartime, I was surprised to find several dogs in them. It reminded me of the importance of dogs in all human societies – in times of war as well as in times of peace.
BiH remains one of the poorest countries in Europe with an unemployment rate of 38 percent. Across the country, you'll still pass buildings destroyed by bombs or speckled with bullet holes, a stark reminder of the past violence. Some buildings are left in place to serve as a memory of the horrific war, but other ruins can house roaming dog populations, a struggle that faces many BiH communities.
In Jajce a pack of dogs have taken up residency in an abandoned hospital where they are taken care of by community members. We were able to trap one of those dogs, one that they have been wanting to sterilize for four years. She bit me because of a mistake I made in approaching her, but it was worth it because now she will enjoy life and won't have any more unwanted puppies.
These stray dogs are a cause for concern for many citizens. While most street dogs are well-adapted to people, aggressive situations may arise when male dogs gather around a female in heat or when a mother dog feels that her puppies are threatened.
Conflicting opinions about how to manage these roaming dogs builds resentment and strife in some of these communities.
The people of BIH are amazing, and despite past events, have moved forward to live in peace with their neighbors of different religions and ethnicities. Many whom I have met have a big heart for animals. Even when they do not own a dog themselves, many will try to help dogs in need by providing food, love and protection from unfriendly elements in the community.
The IFAW/UNDP project works to build community engagement to create environments in which dogs are treated humanely, and can live safely amongst people.
With funding from IFAW, and a commitment for long-term funding by the municipality, roaming dogs would be sterilized, vaccinated against rabies and treated for internal and external parasites per the HCD plan. Dogs are marked with a red ear tag to let the passerby know that they are a part of the HCD project. Seeing these red tags brings great comfort to community members, knowing that something is being done to help these dogs in a humane way.
Many of the veterinary clinics in the HCD towns previously lacked the equipment they needed for sterilization surgeries. IFAW equipped the clinics, and arranged for local veterinarians to receive training to perform surgeries in accordance with international standards. Organized and led by Dr. Kati Loeffler, IFAW´s Veterinary Advisor for the Community Animals Program, the veterinary training also taught local vets safe and humane surgical methods and anesthesia, safe dog-handling techniques and how to read dog body language and understand behavior. Elzemina Bojičić, project coordinator with the UNDP, managed logistics and translation for the training along with help from Sarajevo veterinarian, Dr. Tarik Abazović.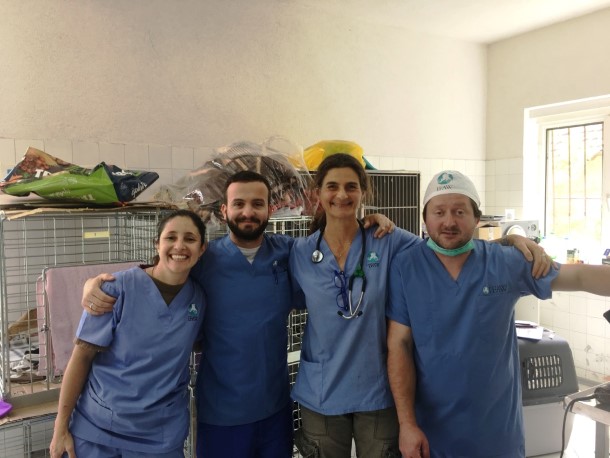 One of the municipalities where IFAW's work has blossomed is Jajce, a town of around 30,000 people. Jajce used to have a dog shelter, but the community could not afford to adequately feed and care for the dogs. Without an active adoption network, dogs placed in the shelter had little hope of ever leaving it. The push for change began in 2015, as part of an agreement with IFAW/UNDP towards long-term, humane management of the dog population. As a result, IFAW led the effort to close the shelter and find homes for the 67 dogs living there.
Now in Jajce, adults and children come to visit the clinic daily to walk dogs to and from surgery, to make sure that the recovering patients were clean and fed, and most importantly, to give plenty of love and reassurance when needed.
The dogs in Jajce are some of the most beautiful souls I have ever met, and so are the people. Armed with newfound confidence, the local veterinarians and community members plan to set up fostering and adoption networks, and conduct education and outreach programs for children and dog owners. We know that Jajce will be a safer, happier and healthier community for all of the people and animals who call it home.
–EF
GD Star Rating
loading...
Article source: IFAW