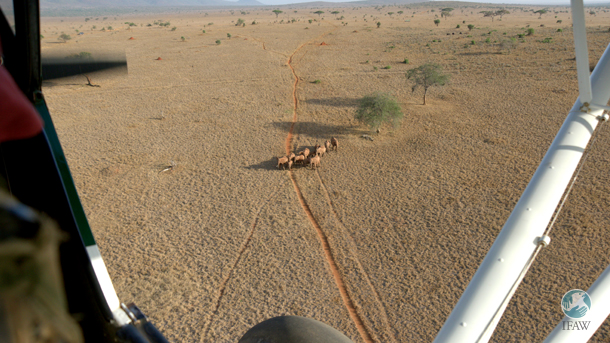 Elephant numbers are on the rise in the Tsavo Conservation Area. After reviewing data collected in the ten-day aerial elephant census conducted this February, the elephant population there has risen to 12,866.
The census is conducted every three years to help predict and track population trends amongst one of Africa's most endangered species. The census counted 11,076 elephants in 2014, 12,573 in 2011 and 11,733 in 2008. The aerial census was mainly funded by USAID, and led by Kenya Wildlife Service (KWS). The International Fund for Animal Welfare (IFAW) offered both technical expertise and financial support for the project.
The increase in elephant population by over 15 percent is indeed good news for conservation. Scientists and conservationists alike were concerned about this year's census given that it was taken during a severe drought that plagued the majority of sub-Saharan Africa.
Monitoring of elephants in the Tsavo ecosystem is critical to elephant conservation and management. The ecosystem is home to Kenya's largest elephant population and covers 42,000 square kilometres, half of which is protected area comprising of Tsavo East, Tsavo West and Chyullu Hills National Parks. These animals are largely threatened by poaching and habitat loss.
With increased knowledge of elephant populations and distributions, groups like IFAW can better assess and support KWS anti-poaching operations, as well as mitigate human-wildlife conflict. The information collected in this census will be vital for the KWS and IFAW's tenBoma initiative in Tsavo, as it allows for the mapping and pre-emptive protection of elephant herds in areas where they are most vulnerable. This initiative offers a platform for local communities and participating NGOs to share information that relates to the security of elephants and wildlife in general, thus fostering a collaborative approach to anti-poaching with forensics, community security and conservation policy.
However, an increase in elephant populations is not an indicator that we should relax our efforts. Threats that include poaching, conflict with humans, wildlife habitat destruction, climate change, population growth and infrastructural developments continue to negatively affect elephant populations globally. Through our on-the-ground work in Africa and Asia, we at IFAW are committed in playing our part to ensure that elephants and the spaces that they need to thrive, are secure.  We can only achieve this success through the concentrated help of communities and friends.
–JI

GD Star Rating
loading...
Article source: IFAW