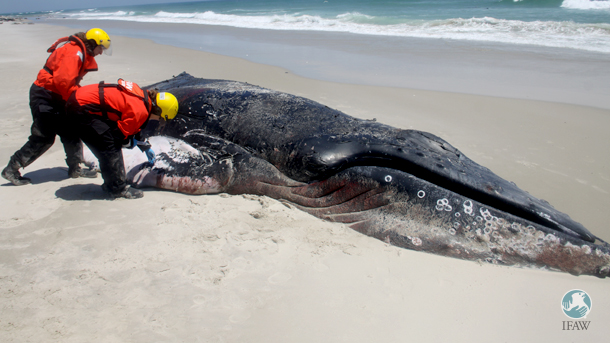 This week, the International Fund for Animal Welfare's (IFAW) Marine Mammal Rescue and Research team responded to two separate stranded juvenile humpback whales in Chatham, Massachusetts.
The incidents are being investigated as a part of the 2016/2017 humpback whale Unusual Mortality Event (UME) declared by the National Oceanic and Atmospheric Administration (NOAA), which traces back to January 2016 and is still presently active. There have been five dead humpbacks in Massachusetts during this timeframe and 46 in total throughout the Mid-Atlantic and New England regions.
IFAW received a call about the first stranded humpback whale at 2 pm on Monday, June 19. It was originally reported as dead, but the next day, bird researchers based on Monomoy Island were able to locate the whale and discovered it was still alive. Unfortunately, our team could not reach the island that day due to severe weather, but US Fish and Wildlife Service staff were able to take us out via boat the next morning. The whale died before our team arrived. Heavy surf and waves made performing a full necropsy too hazardous, but we were able to collect basic measurements and a few tissue samples.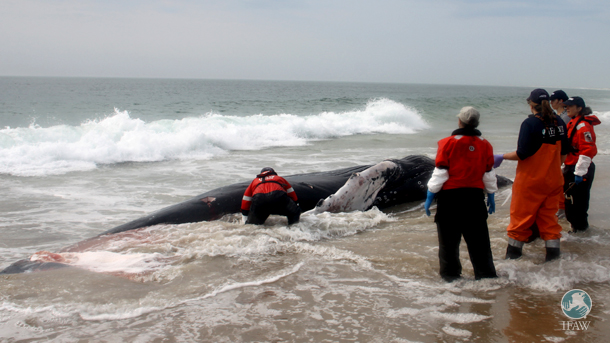 While out examining the first dead stranded humpback whale, the team received a report of another stranded dead whale on Monomoy. I immediately set out with another staff member to hike the two miles up the beach to verify the second whale. When we arrived we found that it was actually alive and in poor condition. This 27-foot long humpback was thin, had peeling skin from sun exposure, significant scavenger damage from gulls and was partially buried in the sand. 
A thorough health assessment was performed by IFAW's veterinarian. With no other option available, and considering the whale's poor condition, the whale was humanely euthanized to prevent further suffering. After the animal had passed, our team began to conduct a necropsy on the beach in order to learn as much as possible from the stranding.
The whale was thin and there were no recent signs of entanglement, vessel strike or other major wounds. There was evidence of recent feeding in the intestinal tract, despite the poor body condition.
The team also discovered a particular parasite known as Crassicauda, which is a roundworm found in the kidneys and urinary tract and has been linked to death in young whales. However, initial test results don't indicate that this infection was causing significant kidney damage. Bloodwork did not suggest liver, kidney, metabolic disease or chronic bacterial infection, but further analyses are still pending.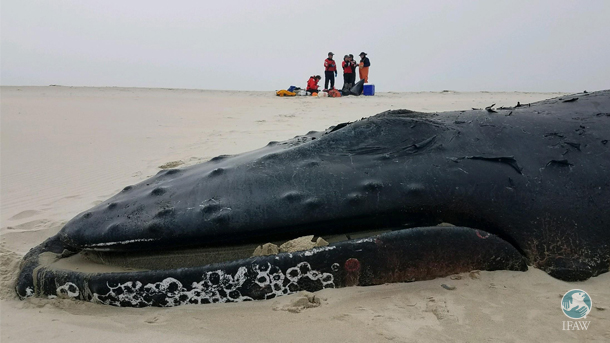 IFAW is committed to the rescue and applied research of marine mammals in the hopes that further research discoveries will positively impact the experience of stranded mammals.
In the future, more options might be available to save stranded whales. In October, IFAW will be co-hosting a workshop to find solutions for rescuing and assessing large whales. The international workshop will be part of the Society of Marine Mammalogy's 22nd Biennial conference to be held in Halifax, Nova Scotia.
When it comes to IFAW's ability to rescue large mammals, we put all options on the table. One of the objectives of this workshop is to bring experts from multiple disciplines, such as dredge operators and salvage engineers, together with other marine mammal experts from around the world to look at all the possibilities. 
While rescue would not have been a good option for this animal given its poor condition, we hope to be ready to help the next good candidate that strands have a second chance at life.
–BS

GD Star Rating
loading...
Article source: IFAW