When Pak Lung found six puppies, he knew he had to do something. The elderly woman who owned their mother did not want them and was getting ready to leave them – and their mother – on the street.
With the threat of impending abandonment facing these animals, Pak Lung decided to take in the whole family. He had just started working as a local coordinator for Program Dharma, a new initiative from the International Fund for Animal Welfare (IFAW), the Bali Animal Welfare Association (BAWA) and Udayana University. For village coordinators like Pak Lung, that means he travels door to door, checking up on dogs, informing his neighbors when there is a health clinic and telling the government which dogs need to be vaccinated against rabies; a crucial task for animal and human health.
Since rabies is new to Bali, it is highly misunderstood. Many people who see a dog suffering from mange or another minor disease immediately think that rabies is to blame for the animal's poor condition. This causes fear amongst communities and leaves dogs vulnerable to neglect, abuse and even death.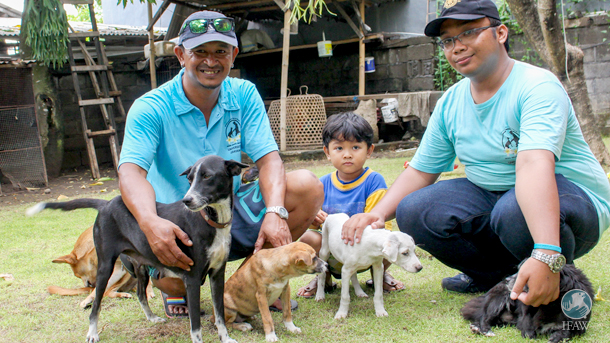 Pak Lung isn't alone in his efforts for animal welfare; Program Dharma operates in 28 communities with recent graduates in veterinary medicine and public health as program leaders. Local coordinators, like Pak Lung, are the eyes and ears for these leaders, often assisting in door-to-door outreach and helping to schedule rabies vaccination appointments.
Members of the Dharma team are trained in dog behaviour and welfare, conduct education and outreach in local communities and — most importantly – educate people about their four legged companions. To reach each of the 28 villages, members have mapped canines on the Indonesian island using the latest epidemiological software. The population mapping is integral to reaching the 70 percent vaccination coverage goal to protect both dogs and humans from rabies. As an outgrowth of the successful Participatory Learning and Action (PLA) project, Program Dharma mobilises the latest research into epidemiology and human behavior to halt the spread of rabies on the island of Bali.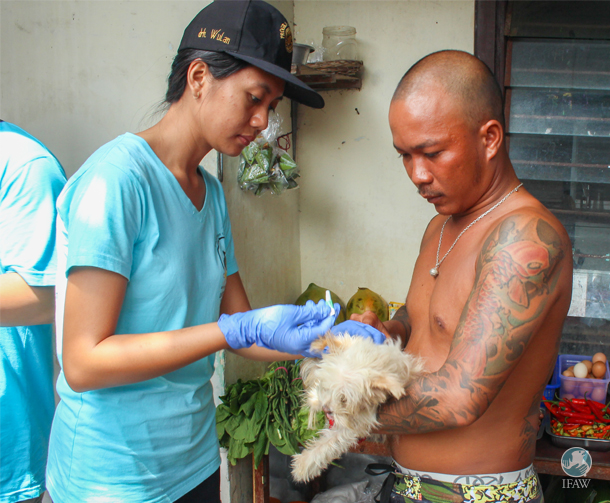 Within the last year, Program Dharma and in coordination with our partner organisation BAWA has  counted 5,500 dogs in 28 communities, educated over 2,000 dog owners and conducted in coordination with partner organization BAWA 30 community health days that have led to 220 sterilisations and 800 vaccinations. Within the village of Sanur Kaja village, vaccination coverage has increased by nearly 20 percent, rising from 61.5 percent last July to 81.2 percent in March 2017. Similarly, other villages have seen thin and emaciated dog numbers drop from 13 percent to four, and the number of roaming dogs and those being sold to the dog-meat trade has been drastically reduced.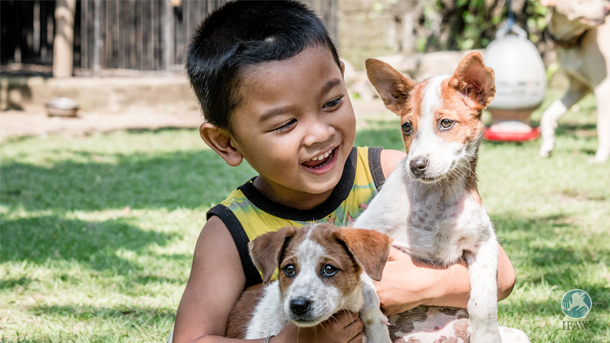 Pak Lung and his colleagues have been fighting an uphill battle – but one that they are winning. In the 20 communities that were a part of Program Dharma's parent project, PLA, we have seen a near total eradication of rabies. The numbers so far indicate that Program Dharma will be just as successful. Since our work began in with Program Dharma, there have been zero suspected cases of rabies.
As for the puppies that Pak Lung rescued, he looked after them until they were old enough to be happily adopted by his neighbors. In addition to his coordinator duties for Program Dharma, Pak Lung has agreed to be a regular foster parent, meaning he will continue to help raise and rehome puppies in his community. Without caring and determined people like Pak Lung, our work to improve life for companion animals and protect animals and humans from the deadly effects of rabies would be impossible.
–KA

GD Star Rating
loading...
Article source: IFAW