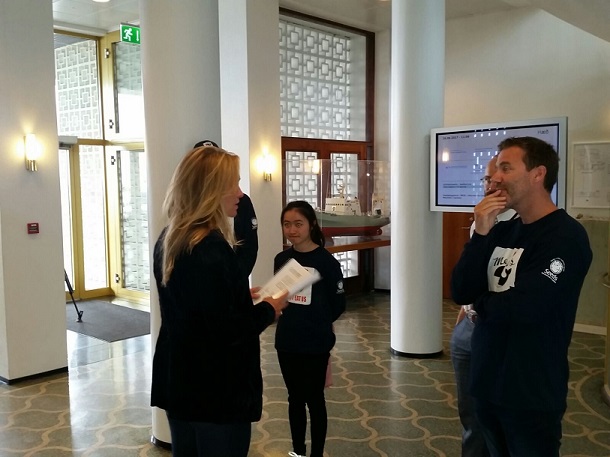 Recently some Meet Us, Don't Eat Us volunteers and I were waiting for Iceland's Minister of Fisheries Thorgerdur Katrin Gunnarsdottir as she came out of a cabinet meeting.
As the volunteers handed the signatures they had gathered over the past few weeks to the Minister, I explained the importance of our petition's goal to declare a larger part of Faxaflói Bay, outside the capital city of Reykjavík, a sanctuary for whales.
I pointed out that around 650 whales have been killed in Faxaflói Bay over the last 14 years, or since whaling resumed after a 13-year pause. Many more people now understand that whaling should not be allowed in the same bay where half of the whale watching in the country takes place. All political parties in Reykjavik agree with us, as does the National Organization of Tourism Operators and Icewhale, the country's whale watching association.
READ: Global volunteer corps coming to Iceland to save whales
The aim is to collect 50,000 signatures this summer. With 7,000 collected in the first two weeks of the campaign, we are off to a good start.
The Minister thanked us and representatives of the three Icewhale whale watching companies in Reykjavík who accompanied us.
She was later interviewed by the National Broadcasting Service (RUV), stating that the ministry is examining the matter closely. "The hunting has begun and I will not disturb it this summer," said Minister Gunnarsdottir. "However, in the future we need to discuss this in more detail and get a clearer picture. Reykjavík's position is clear, and the interests of the tourism sectors are as well."
Never before in the history of Iceland's republic has a fishery minister mentioned the mere possibility of changing the island nation's whaling policy.
Minister Gunnarsdottir can by herself decide if whaling continues or not, and does not needs the cabinet or Althingi (Parliament) approval.
According to the Fisheries Directorate, four minke whales have been hunted this season. The annual quota is 230 animals, but it is unlikely that whalers will hunt more than 10 percent of the quota this year as they started much later than before (fin whales have not been hunted in two years).
Much of this is due to the demand reduction work of our Meet Us, Don't Eat Us campaign. More than 70 restaurants, most in downtown Reykjavík, have declared themselves whale friendly, promising not to sell whale meat. Many other new restaurants are joining the group this summer.
IFAW´s campaign and strategy in Iceland is working. We have made real progress in these last years.
The Minister also said in the RUV interview that she is asked daily to reexamine the whaling policy of Iceland and that it is possible to take a position on whaling in its entirety as well as the Faxaflói Bay Sanctuary. She stated that she is actively examining these matters, gathering information including scientific data and looking into trade and foreign issues.
"We need to have this debate and we need to be diligent," said Minister Gunnarsdottir. "However it is obvious that this [whaling] policy cannot continue forever." 
–SM
GD Star Rating
loading...
Article source: IFAW