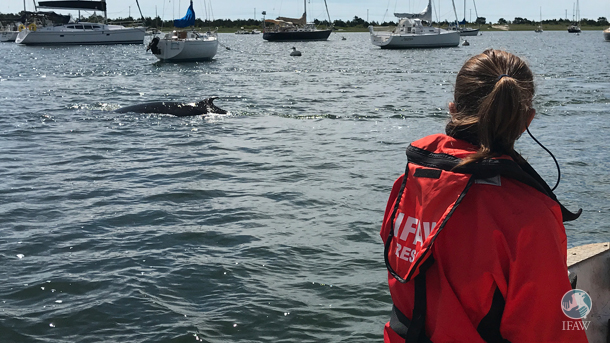 This blog was penned by Assistant Stranding Coordinator Kathryn Rose. –BS
The young female minke whale that swam into Stage Harbor in Chatham, Mass. on July 6 died early the next morning from what appears to be a health condition. The International Fund for Animal Welfare's (IFAW) Marine Mammal Rescue and Research (MMRR) team along with the Chatham Harbormaster's Office were able to recover the whale from the water for a necropsy.
Initial necropsy findings indicate that the whale had underlying health conditions that likely caused the stranding. No evidence of trauma from entanglement or vessel interaction was found.
When the whale first swam into the harbor, IFAW veterinarian Dr. Sarah Sharp assessed the animal's condition from the MMRR boat as she surfaced for air.
The 18-foot-long whale was observed swimming in tight circles around the harbor, narrowly avoiding passing boats. Earlier in the morning, she was caught between pilings under the docks. The whale did manage to free herself, but not without suffering abrasions and lacerations from head to tail.
The team attempted to herd the whale out of the harbor to open water, but she did not respond to vessel herding or acoustic deterrents. 
A few hours later, the whale made her way out of the harbor toward the open ocean, only to swim back in with the high tide. At 6 pm, the team left the whale just inside the harbor entrance, hoping she would find her way out overnight.
Plans were made to return the next morning to look for the whale, but an early morning call came in that the whale had died.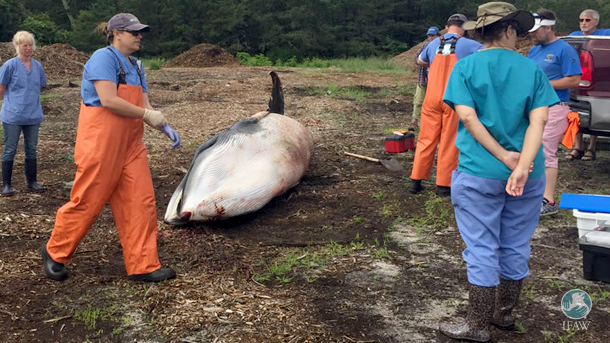 It may be several weeks or months before laboratory results from the tissue samples collected confirm an official diagnosis or cause of death.
–-KR

GD Star Rating
loading...
Article source: IFAW