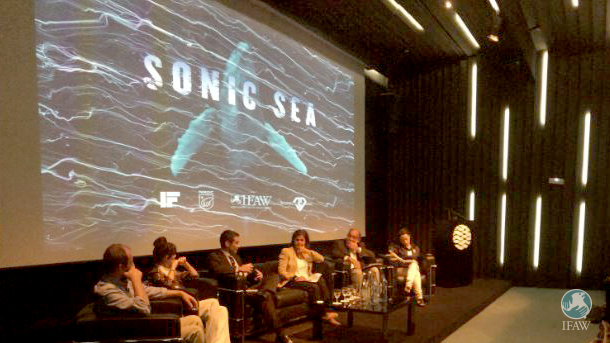 The documentary Sonic Sea was screened on July 12 in Lisbon, the capital city of Portugal, and was met with the same enthusiasm as it has in other countries. Held at the Lisbon Aquarium, the event brought together stakeholders from relevant ministries and marine institutions, the shipping industry and port authorities to discuss the threat to marine life and the possible solutions.
The documentary, produced by the International Fund for Animal Welfare (IFAW) and the Natural Resources Defense Council (NRDC), paints the picture of our ever-increasing noisy oceans with the mission to inform governments and the shipping industry that urgent action needs to be taken to stop increasing anthropogenic underwater noise.
The screening featured a panel with IFAW, representatives of the shipping sector, Portuguese Director General for the Sea Dr. Fausto Brito e Abreu and the International Whaling Commission (IWC) Portuguese Commissioner Luis Freitas.
"Underwater noise remains an undervalued problem," Commissioner Freitas said. "This is largely due to the lack of knowledge of all its implications for marine life, especially sensitive species such as cetaceans, which depend on sound to communicate and find their food."
Marine life exists in a world dominated by sound. For whales and dolphins, underwater sound is a means of survival; it is essential for communication, navigation, locating prey, avoiding predators and finding potential mates. Elevated noise levels, especially from ships, interferes with the natural sounds produced by marine mammals. This causes stress and reduces the ability of these animals to carry out essential life functions.
From 1950 to 2000, underwater noise has doubled every 10 years. Increasing levels of noise from shipping, oil and gas exploration, naval sonar training, construction and other activities have begun to drown out the ocean's natural sound. The development of worldwide trade has been accompanied by the increase of the world fleet to nearly 90,000 vessels.
Besides affecting marine life's natural processes, underwater noise also likely affects the risk of collisions between vessels and cetaceans.
"With increasing marine and maritime activities, underwater noise is expected to escalate," Commissioner Freitas said. "It is crucial to understand their impacts on marine life and to have measures in place to minimize these effects."
Dr. Fausto Brito e Abreu agreed, stating that the Portuguese government will be first in line to reduce the effects of ocean noise and invest more in research.
In the European Union's Marine Strategy Framework Directive, member states have been asked to take action on this issue. The International Maritime Organization (IMO) has also agreed on guidelines to address noise from shipping. It is important to note that measures to reduce shipping noise exist, from slow steaming ships, better propeller design and identifying and replacing the noisiest 10 percent of ships that are responsible for 90 percent of the shipping noise.
However, there is currently no international regulation of ocean noise, nor an international standard for monitoring underwater noise.
By actively working with the shipping industry to make noise pollution a priority as part of companies' green commitments and corporate social responsibility objectives, there is hope that we will see a direct correlation. Unlike chemical pollution, noise does not persist in the environment. This means that if the noise is reduced, the amount of noise underwater will be immediately lowered. Reducing low frequency ambient noise levels would likely benefit many marine mammals as well as some fish and invertebrate species.
IFAW has been working on this topic for years by increasing awareness and promoting measures to reduce the source levels of noise and advocating to eradicate the noisiest activities from critical whale habitat.
This recent event is the cornerstone in developing a strong cooperative relationship with Portuguese authorities and the maritime sector to collect more data, implement European legislations (such as the Marine Strategy Framework Directive) and mitigate noise levels in their waters.
IFAW hopes to bring this movie to other key maritime European Union Member States to raise awareness and establish a dialogue with different stakeholders.
–EP

GD Star Rating
loading...
Article source: IFAW