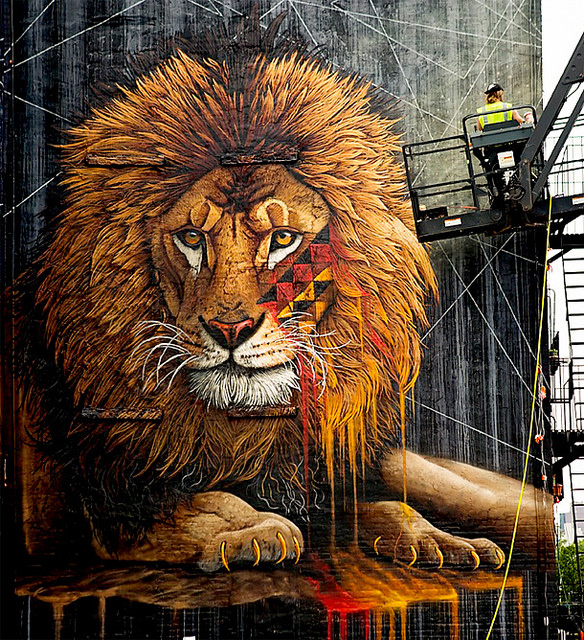 Sonny the street artist is currently painting murals around the world highlighting imperiled species. He has chosen the International Fund for Animal Welfare (IFAW) as his conservation partner and is promoting IFAW's work on his website and in his campaign, "To the Bone." His work features animals IFAW strives to save and protect, and he will be traveling to many countries where IFAW has offices to paint.
If you are in New York City, Sonny's painting of a lion (pictured above in the slide show of his process) is located on the Lower East Side, on the corner of Allen Stanton streets. His tentative schedule for painting other epic wildlife painting includes the following locations: Johannesburg (17-23 July), Russia (1-6 August), London (9-16 August), Ireland (17 – 20 August) and India (October/November).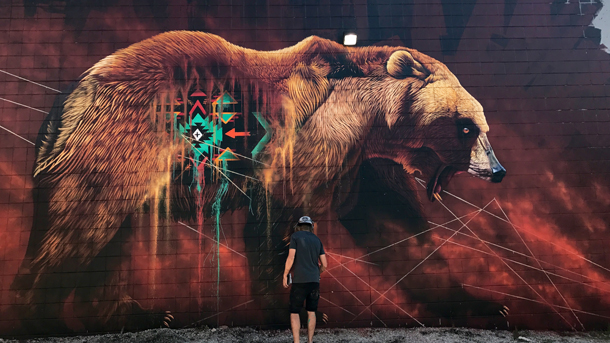 Sonny's murals tend to be huge—the side of a several story building for example—and I find them pretty intense, like the animal is seeing right through to the core of the viewer. I was motivated to learn how Sonny came to this point in his career to create this campaign and to travel the world sharing his passion. I recently caught up with Sonny in New York and here is what he had to say:
KSJ:        What inspired you to create this "To the Bone" initiative?
Sonny: I kept feeling like I needed to do more to help these animals that I love so much. At the same time, I noticed the impact that my street murals had on people, and I knew that I had to use my art to do something to help raise awareness of the extinction crisis that our wildlife is facing.   
KSJ:        What is the toughest part of making this vision a reality?
Sonny: While I've been working on the project for close to two years already, we only really launched it in the last month. There was so much planning involved, plus I spent a year in the studio creating the canvas work. So often you have an idea and you want to start on it right away. I think the hardest part was being patient enough to wait for it all to come together.
KSJ:        How long do such large-scale murals such as the one in New York take you to complete?
Sonny: It depends, but can take usually it takes between 3 and 6 days. Surprisingly, it takes infinitely longer to paint a small canvas.
KSJ:        It must be exhausting painting such large scale pieces. Does it take a lot out of you physically and mentally?  How do you stay driven to keep going especially for this world tour?
Sonny: It is really physical, especially because I tend to work really long hours. When I start a mural I sort of zone into it, and if I can I'll work from sunrise to sunset on it. It can be pretty brutal on the body, but there's nothing quite like painting on the streets. I dig it, so it's easy to keep going! The studio work is far more mentally taxing, so staying motivated when you're a month into a painting can be a challenge. Good music really helps.
KSJ:        How did you learn how to do this type of painting and of this size?
Sonny: I only started painting about 5 years ago and before that I had no experience other than the odd pencil drawings. I started because my friends and I wanted to paint our band room. It was a long process of teaching myself all the basics – learning about colour took the most time. To be honest, a lot was trial and error. And YouTube.
KSJ:        What has given you the greatest satisfaction thus far in focusing on these magnificent species?
Sonny: Each animal is so unique in how it looks and so it never gets boring. There's also nothing better than seeing people's reactions to a mural when it's finished. I hope that my art can remind people of the beauty of these animals and inspire them to help protect them! 
 KSJ:       Do you have a favorite animal? If so, why are you drawn to that particular species?
Sonny: The tiger. It's pure power and beauty.
 KSJ:       As someone now living in a country, South Africa, that actually has wild lions, what do you say to Americans and others who want to kill them for sport and trophies?
Sonny: When you see these animals in real life, you can't imagine a world where they no longer exist. But if we carry on in the direction we're going, this might be a reality for the next generations. To kill such a beautiful and powerful animal for sport does not show how strong you are, it shows your weakness as a slave to your own ego and arrogance. It makes me sick to my stomach. 
KSJ:        Did Cecil's death impact and or inspire you in your work?
Sonny: Cecil's death was a real tragedy, but what is even worse is that these things are happening all the time! It wasn't the initial trigger for the project, but all of these terrible incidents have definitely kept me focused and fueled my fire to make the project happen.
KSJ:        And now you are here in New York City. How did you like painting in the Big Apple? Was this your first visit to New York City?
Sonny: It was not my first trip to the city, but it has definitely been a dream of mine to paint in New York. It was such an incredible and surreal experience.
KSJ:        How did you learn of IFAW's work?
Sonny:  I've always been inspired by the beauty of animals, which is why they've always featured in my work. But the more I started painting them, the more I started learning about all the threats that they're currently facing. That's when I really started to research wildlife conservation groups, as I wanted to find out how I could help. That's when I learnt about IFAW and all the good work they do.
KSJ:        I do education work for IFAW so I have to ask, do you have a message for kids who may be interested in a career in art and are inspired by your art and/or your artistic process?
Sonny: Do what you love.
Lions and other species are in real danger of extinction. The more ways we can raise awareness of the extinction crisis such as through IFAW's varied and consistent efforts and through grassroots creative ideas such as Sonny's method, the better chance we have to get people, communities and governments involved in keeping our planet biodiverse and healthy.
Thank you Sonny for your time and your beautiful vision.
–KJ
GD Star Rating
loading...
Article source: IFAW