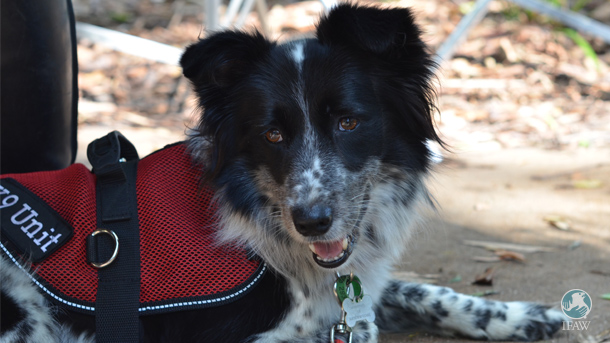 Detecting and protecting wildlife is not an easy task, especially for rare animals that are well hidden in the forest such as koalas.
With up to 220 million scent receptors in their nose, dogs are fundamentally more efficient than humans at following a scent. These four-legged experts are able to detect in a non-invasive manner a wide range of species invisible to the human eye.
I was able to spend a week on in Sunshine Coast, Queensland, to get a better grasp of the Detection Dogs for Conservation programme, a cornerstone in IFAW's work to save Australia's iconic koalas. Led by Dr. Romane Cristescu and Dr. Céline Frère, the programme has been working in partnership with the University of the Sunshine Coast (USC). The group seeks out high-energy dogs from local shelters and teaches them to track koalas.
Bear, is one of the programme's success stories. After a year of training, the Border Collie/Koolie cross has been trained to detect the smell of koala both on the ground and in the air, up to 4.6 – 6 metres.  
However, Bear's-four legged colleague Maya is the first dog to track for koala poo.
Maya was saved from death row at an animal shelter, joining the USC programme in 2013. She graduated the programme with a 97 percent accuracy rate and is 150 times better at finding koala poo than humans.
The team usually works in nature reserves to count and track koalas or aid private land owners who engage in voluntary conservation. I had the chance to see Maya's skills put to the test in the field–three private landowners had approached the University and asked that Maya come on to their property to help look for resident koalas.
Once the detection dog jacket was strapped on, Maya instantly understood that it was her time to run the show. With a swift hand sign from her trainer she immediately ran around dozens of trees and inspected each one. It looked to me as though Maya was desperately looking for the now familiar smell of koala poo.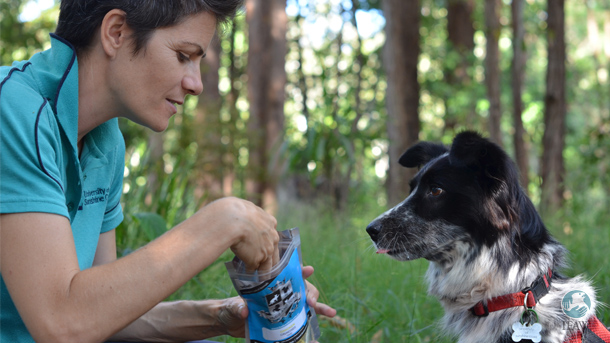 Her four years of experience shone through; As soon as Maya found some scat, her handler quickly confirmed that the poo belonged to a koala before rewarding Maya with a ball. Looking for koala scat is an important conservation measure because scat not only indicates the presence of koalas, but also provides information on the health of animals through genetic analysis.
Spending hours in the forest looking for poo is not risk-free. Dr. Cristescu and Dr. Frère explained to me that one of the main risks associated with being a detection dogs is the other inhabitants of the forest. When training in the field, handlers always bring first aid kits and coordinate with a vet in case of snake bites. The dogs are also thoroughly brushed after each search to avoid ticks.
Maya's talent has already been used several times for non-profit consultancy work, in order to determine whether an area is inhabited by koalas. These surveys not only help build a more detailed map of koala home ranges, but also helps the government to make informed decisions when assessing if a koala population needs protecting. The latest outcome of Maya's hard work is the construction of a tunnel enabling koalas to avoid crossing a highway built through their habitat.
–LB
GD Star Rating
loading...
Article source: IFAW