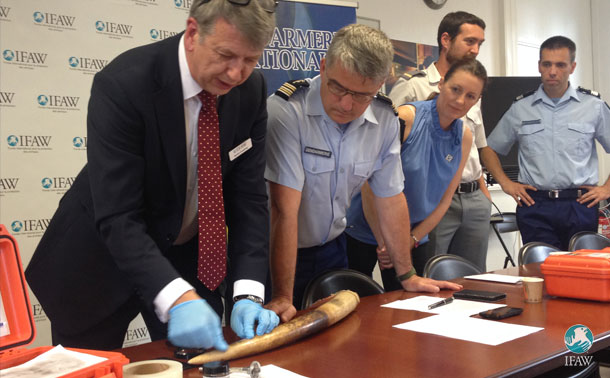 Two of IFAW's new ivory fingerprinting printing kits, which were developed in the UK by the Metropolitan Police and King's College, have just been presented to top law enforcement agencies in France working to stop environmental and wildlife crime. 
I was lucky enough to present the kits with the Director of IFAW France to top officers from the French Gendarmerie Department, OCLAESP, which is dedicated to fighting environmental crime, and to the CITES mobile enforcement brigade under the Police Department. The new ivory fingerprinting kits will help them to gather vital evidence in disrupting the illegal wildlife trade. One of the officers said he was keen to start using the kit to gather more evidence from some recent ivory seizures, as conventional fingerprinting powders had not been successful. 
In front of a crowd of journalists, I gave a practical demonstration of how the kit works. A volunteer placed her fingers on a piece of ivory, leaving a nice set of prints behind. I slowly dusted the tusk with the powder.  The results appear very gently, like developing an old photograph and seeing an image appear.  After about a minute there were a very clear set of fingerprints which could be used for identification.
The media all gathered round, looked through a magnifying glass and took photographs. They all wanted to know how the powder works and why so well on ivory.  I explained that the small scale powder used in the kit is a similar size to the pores in the ivory, requires less sweat residue to stick to, and will enhance any fingerprints left behind. The powder also gives greater definition to any fingerprints it reveals, similar to using more pixels in a camera for a better image.
What this means is that police officers using the kit can now retrieve fingerprints from any ivory they seize for up to 28 days, rather than the one or two days possible with conventional powders. This is another breakthrough in tackling the illegal wildlife trade and adds another item to enforcers' tool box.
Thank you to my colleagues from the IFAW France office for organising this valuable event, and to the police officer who very kindly translated for me.
This ivory fingerprinting kit has already produced some great results as part of our tenBoma project in Kenya. More than fifteen fingerprinting kits have now been successfully deployed in Kenya as part of the project and, used in conjunction with their intelligence and anti-poaching efforts, have already helped gather evidence in four cases with 15 arrests, including five police officers! As a result, 11 elephant tusks and 50 pieces of worked ivory have been seized.
This new method of ivory fingerprinting is now playing a small, but important role in helping to protect the last remaining elephants. We have to use every tool we can to catch the people who are determined to kill elephants for profit.  
–DC

GD Star Rating
loading...
Article source: IFAW