World Ranger Day is an opportunity to sing the praises of the frontline defenders of our wild places. Men and women who lay their lives on the line daily to protect and preserve – and who, sadly and more frequently, do in fact lose their lives.
The International Ranger Federation, with the IUCN, define a ranger as "the person involved in the practical protection and preservation of all aspects of wild areas, historical and cultural sites … providing links between local communities, protected areas and area administration."
According to the IRF, 740 rangers died in the line of duty between 2009 and 2017 with the largest numbers of those being rangers in Asia and Africa. And according to the organization Global Witness, 98 "environmental defenders" have already died in first six months of 2017 – simply doing their jobs. Earlier this month, five rangers in the Democratic Republic of Congo were killed while on a mission to rescue three of their colleagues and some journalists who had gone missing on assignment.
So who are these people, and why do they so bravely risk their lives, often for little reward, to protect and conserve our planet's wild things and wild places?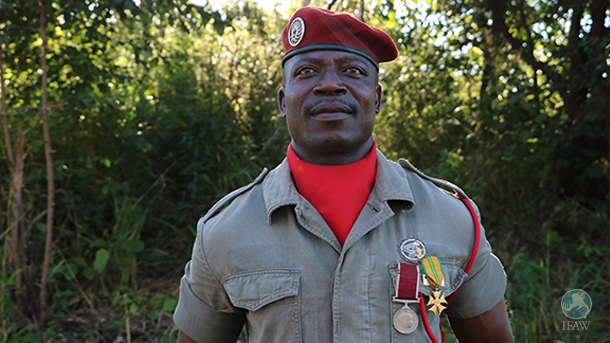 Meet Raphael Chiwindo an investigations and intelligence operator and Assistant Project Manager of IFAW's anti-poaching initiative in Kasungu National Park, Malawi.
Raphael, or "Raph" as he is popularly known, first started working for IFAW nearly 20 years ago. He has spent his life selflessly protecting Malawi's wildlife from cruel and senseless poaching and illegal trade activity. His career with IFAW first started in 1998 after Mike Labuschagne, IFAW Law Enforcement Technical Director, noticed his potential during a ranger training course.
Raph excelled through all training and quickly climbed ranks, being promoted to a qualified instructor and captain of a commando unit. IFAW works in Southern Africa to prevent the unpredictable, yet constant threat of poaching in places like Malawi and Zambia. Raph has remained part of the team for nearly 20 years and is now second in rank in leading one of Malawi's most successful anti-poaching initiatives.
Raph says his duty to protect comes down to his commitment to conservation in an area largely forgotten by others.
"Malawi has beautiful wildlife that I feel is overlooked by the world, and it needs organisations like IFAW that see the importance of conserving and protecting the landscape. There are few people in the word who care about wildlife, I want to be one of the few who do," says Raph.
IFAW is committed to bringing an end to the cruel and senseless poaching that is rampant throughout the Zambia-Malawi Landscape. A grueling and difficult mission, but one made a little easier by having dedicated people like Raph on our team.
On World Ranger Day, IFAW would like to send our appreciation to all the rangers and environmental defenders. Thank you for all that you do.
—DG
GD Star Rating
loading...
Article source: IFAW