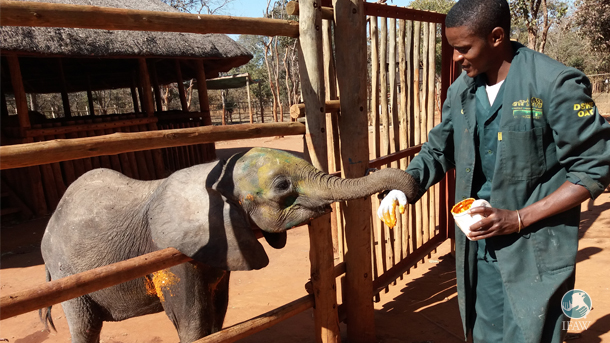 Mkaliva, a young female elephant found orphaned in the Kavalamanja area of South Luangwa, was rescued on August 8, 2017 by community members. Her rescue is evidence that community partners are essential to locating and rescuing vulnerable elephant calves. Both GRI-Elephant Orphanage (EOP) and International Fund for Animal Welfare (IFAW) are committed to creating partnerships with local communities and empowering them to move to the forefront of conservation in their region.
Shortly after her rescue, EOP received a call on the Orphan Hotline that the community had captured and restrained a small female elephant calf, approximately one year and ten months old.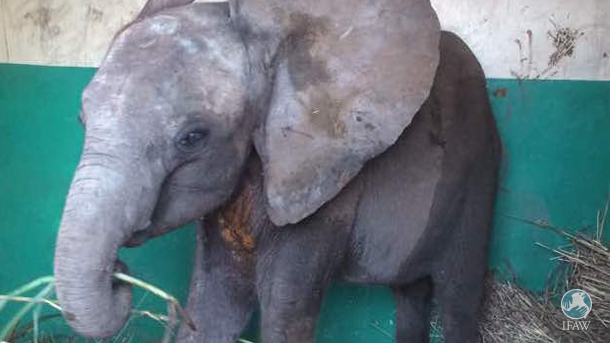 There had been reports of recent poaching in the area, and Mkaliva may have been orphaned as a result. She was dehydrated and frightened and the separation from her mother likely created extensive physical and emotional distress. She sustained some injuries while the villagers tried hard to save her life. She was relocated to a temporary holding facility and offered essential rehydration fluids.
EOP and the Department of National Parks and Wildlife (DNPW) in South Luangwa National Park responded to the call and began efforts to transport her to the orphanage.
She was given immediate treatment in situ with assistance from veterinarian Dr. Jackson Katampi from the Department of National Parks and Wildlife (DNPW) and monitored for a few days while her condition was assessed for travel. On August 11, 2017, she was transported to the Lilayi Elephant Nursery. This was a difficult journey as the team struggled to keep her warm enough on the 10-hour journey in winter. Her energy levels "crashed" on a few occasions, forcing the team to stop to allow the veterinarian to administer critical treatment on the road.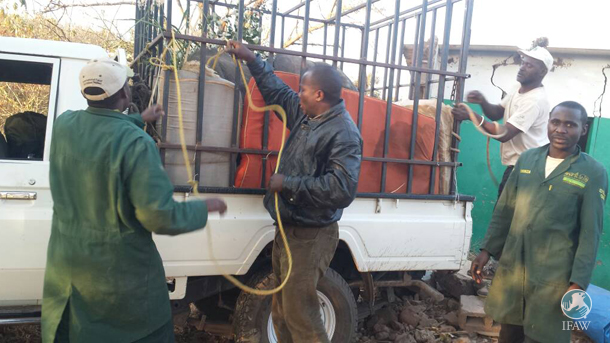 Her first few nights at the nursery were also extremely challenging with multiple energy level crashes, needing 24/7 support from caretakers in the stables. This involved all efforts to bring her core temperature up, including blankets, hot water bottles and a heat lamp while administering IV fluids.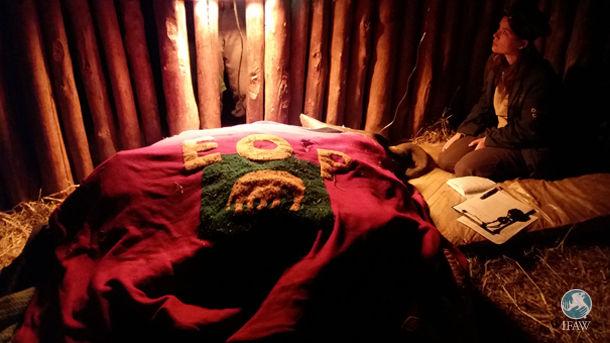 The wounds she sustained during her rescue have also been routinely cleaned and covered in various treatments and fly repellent (hence her multi-coloured appearance in some of the photos!).
The community support and spirit during this rescue was evident and we will continue to motivate and educate regarding capture techniques and reducing early stress.
The name "Mkaliva" was chosen as it signifies the unity of the three villages that make up the Kavalamanja district and the coming together of the community, the DNPW and the EOP teams in saving this young fragile life.
The area where Mkaliva was rescued from has poaching challenges (especially from the neighbouring countries) and therefore is classed by EOP's Orphaned Elephant Awareness Campaign (OEAC) as an 'orphan hotspot.' Since focusing educational efforts in this region, communities have been on the lookout for orphan calves. Last year, two rescues (Kakaro and Kasewe) came from the same area.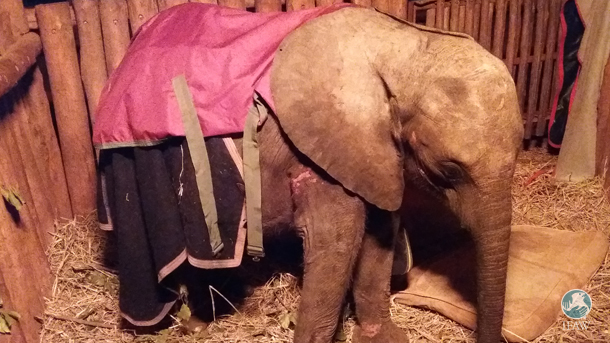 We would like to thank those who assisted, especially Gregory Phiri, Patrick Matewere, Ben Tembo and members of the DNPW including Warden Phiri and Philip Kamuzyu.
For now, the priority is slowly increasing her milk feed so her energy levels do not crash dangerously low without causing too much stress on her fragile digestive system – a fine and delicate balance.
The GRI-Elephant Orphanage Project operates in partnership with the International Fund for Animal Welfare, David Shepherd Wildlife Foundation and the Department of National Parks and Wildlife.
–GA

GD Star Rating
loading...
Article source: IFAW