The International Fund for Animal Welfare (IFAW) has released fifteen rare falcons back to the wild in Russia. The falcons were seized at Moscow's Domodedovo airport on September 13, 2016. Customs officers discovered the nine Saker falcons and six highly endangered Gyrfalcons in a shipment destined for the United Arab Emirates. Smugglers tried to use Convention on International Trade in Endangered Species of Wild Fauna and Flora (CITES) permits, which are issued by its Management Authority of the Russian Federation. Any export of the wild specimens of both species from Russia is prohibited.
Initially, all of the confiscated raptors were housed by the Moscow Government in a temporary holding area, but the facilities did not provide conditions required for rehabilitating them for release back to the wild.
IFAW has proposed to move some of the seized birds to the Wild Animal Rescue Centre (WARC) where they are to be rehabilitated and prepared for life in the wild.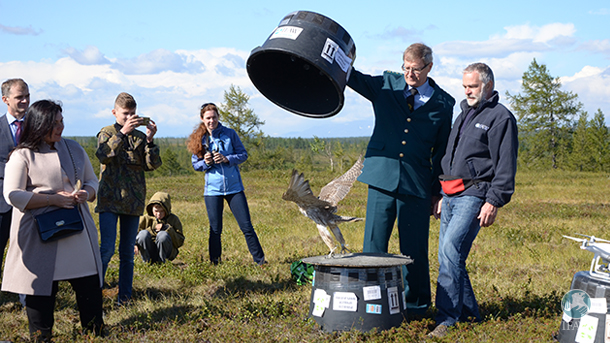 IFAW partners with the WARC to rehabilitate and release confiscated falcons and return them to the wild. A key objective of this partnership is to assist customs, enforcement, and wildlife conservation authorities in combating wildlife trafficking that specifically threatens the survival of endangered species. Special attention is given to species listed by CITES and in the Red Book of the Russian Federation.
Over the course of IFAW's partnership with WARC, a large number of raptors, including 22 Gyrfalcons, 28 Saker falcons and one Peregrine falcon have been returned to the wild.
Unfortunately, the release of seized falcons is not yet a common practice here. Many birds quickly lose their viability for release if they are kept in facilities which do not provide the necessary conditions for their rehabilitation. IFAW looks to change this across Russia to ensure wildlife taken from the wild is given a chance to be released back to the wild.
Rehabilitation of falcons and their transportation to the release sites requires a significant effort, and due to IFAW and WARC's collaboration, fifteen birds will now experience a life of freedom in the wilderness of Russia's Yamal and Altai regions.
-MV
LIKE THIS STORY? Check out another cool birds-of-prey video from our Beijing Raptor Rescue Center (BRRC) earlier this year!
GD Star Rating
loading...
Article source: IFAW