IFAW staffers Angela Williams and Debbie Zinck were recipients of our organization-wide 2016 Barbara Fried Brand Ambassador Award, which recognizes two staff members who would not otherwise have the opportunity to visit an IFAW project. 
For more than 20 years, Barbara Fried embodied the values of IFAW. Her personal passion for animal welfare shaped every aspect of her work sharing IFAW's stories with our supporters, enabling us to rescue and protect animals around the world. Barbara retired from IFAW in January 2014. To honor her for her many lasting contributions, we presented her with a retirement gift of a visit to an IFAW project of choice. With great appreciation, she declined the gift and requested that this opportunity be shared with others.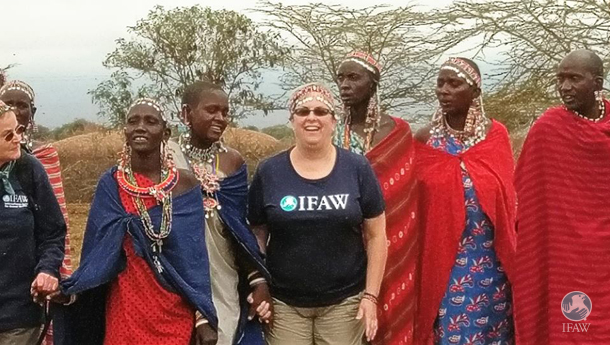 This July, Angela and Debbie set off to visit Amboseli National Park in Kenya. They spent time at various projects including the Kitenden Conservancy, a community market and a cultural village. They also had an opportunity to view the water pipeline project that is supported by IFAW and went on numerous game drives in the park, all in efforts to see first-hand and experience IFAW's activities and impact on ground.
We sat down with Debbie, our US Accounting Specialist, and Angela, our UK Leadership Gifts Administrator, to hear more about their hands-on experience. Both Debbie and Angela expressed an overwhelming feeling of surprise, honor and humbleness when they learned they would be visiting Amboseli – a project they had worked on for years. 
What was your favorite moment of the trip? Whether laughter or tears, or anything in between…
Debbie: It's so hard to pick just one! On one of our first days in the field, we were at the weekly market in a Maasai village to observe the appearance, care and health of the animals. Out of the crowd a little Maasai girl no more than four years old came up to me and gave me a hug, bowing her head into my stomach. The gesture was unsolicited and so full of spontaneous love I don't think words can explain exactly how I felt. I later learned that Maasai children bow their heads to adults as a sign of respect –  the hug was just an amazing bonus.  
What was it like seeing African wildlife for the first time?
Angela: I loved seeing all the animals living side by side in harmony. I always had the impression it was a constant battle ground out on the savanna. Instead it was peaceful and quiet with animals of all kinds grazing and resting alongside each other, including lions! Seeing elephants in their natural habitat was a lifelong dream come true. Previously I had only seen elephants in circuses and zoos when I was a child, and they always looked so profoundly sad. Since then the elephant has always held a special place in my heart. 
To me all animals are beautiful in their own way: the magnificent elephant, the graceful giraffe, the lively zebra, and the unruffled ostrich. Even the hyena is a character.
Tell us more about the people you met while traveling. What did you learn from your time with them?
Debbie: We spent most of our time with IFAW's Evan Mkala, Bernard Tulito and Edwin Murithi. They live and breathe IFAW. When Evan is at Amboseli he sleeps in a small storage room filled with field supplies like truck tires, boxes, buckets, with a small bed tucked into a corner. If that isn't dedication to IFAW's mission, I don't know what is. Evan's enthusiasm is endless and I felt a kindred spirit with him the moment we met. 
Angela: The IFAW East Africa team is clearly passionate and dedicated to the animals and the communities of the Olgulului Olalarashi Group Ranch (OOGR) that surrounds 90 percent of Amboseli. They explained how IFAW is partnering with the OOGR to secure critical elephant corridors and dispersal areas, land that is vital to migrating elephants and local Maasai tribal people. 
Debbie: Evan and Bernard were greeted like rock stars everywhere we went, with people running up to say hello and shake our hands. There's an endless amount of local knowledge between them, which they easily and happily share. Everyone respected Evan and Bernard, and couldn't say enough positive things about IFAW and our work. Edwin is another IFAW resource who contributes significantly to IFAW's mission.  
Now that you've returned to your office, has your travel left any lasting impressions on the work you do day-to-day? Tell us how.
Angela: Visiting Amboseli has breathed life into my work. It's no longer just words in a report – it's the actions, accomplishments, hurdles to overcome. It's about actual people and places. Now, when I speak with supporters, I can share this amazing experience and be better equipped to answer their questions. I can tell the story of Amboseli and what IFAW is trying to achieve in my own words, rather than what I've read in a report. Seeing a project first hand really brought it to life for me. I learned so much during my visit and now better understand the challenges animals and people face in Amboseli, Kenya. Now when James tells me it's heaven, I know he's not kidding.
Debbie: So many things I've seen on paper in my 15 years at IFAW came alive right in front of me! Everyone I met was extremely passionate about what they do, and it was rewarding to be around such positive energy.  Evan and Bernard were quick to point out the importance of my role at IFAW to everyone, giving me a fresh perspective that what I do behind a desk matters just as much as those in the field.
I saw firsthand that IFAW is making a positive impact in the lives of both animals and people. After processing documents related to this project for more than 15 years, it was phenomenal to hear the stories behind the documents, from the actual sources, and see the people and places benefitting from IFAW's work. 
We asked Debbie and Angela to share with us two of their favorite photos from the trip: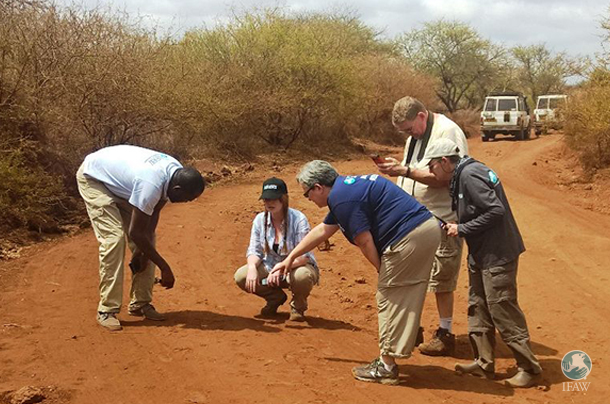 Debbie: This is the scene when I stumbled upon two sets of animal tracks in Amboseli, which ended up being a mother leopard and her cub.  Evan was extremely excited with this find because he wasn't aware of a leopard being in Amboseli, never mind at least two.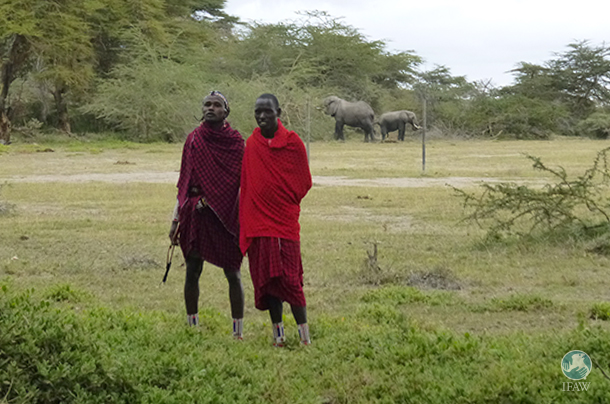 Angela: James explained to me how the increase in human population has led to increased pressure on predominantly wildlife areas and encroachment onto protected areas. The absence of a land use policy for the country has led to endless sub-division of wildlife dispersal areas and wildlife corridors. He also gave me an update on IFAW's various projects to address these pressures on wildlife and habitat.
IFAW's Barbara Fried Ambassador Award is a meaningful recognition of our most deserving colleagues, and we're proud of the impact it has on years of extended engagement across both our teams in the office and our service in the field. Evan, Bernard, Debbie and Angela are forever changed by their visit, and therefore IFAW as an organization is changed as well.
For the latest from our work with the animals and communities of Amboseli National Park, click HERE.
GD Star Rating
loading...
Article source: IFAW