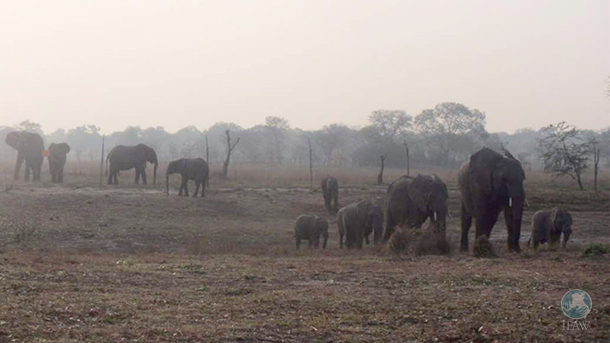 The matriarch, Chamilandu, of a release herd in Kafue National Park, reached an important stage of her rehabilitation on September 20, 2017. Chamilandu is the oldest female orphan of the herd, and she shared potentially life-changing interactions with a wild bull in the park. This is a wonderful next step as our ultimate goal is for Chamilandu and all orphans to one-day return to the wild full-time among wild elephants.
Chamilandu is now 11 years old, orphaned due to poaching when she was 1.5 years old. She was recently seen interacting with a wild bull aged approximately 20 years old, during which time he mounted her several times.
The bull was first sighted at 3:30 AM on September 20th, drinking water from the Nkala River which runs through the camp at our Kafue Release Facility. Chamilandu and fellow release-phase orphan, nine-year old male Batoka, were in the vicinity approximately 50 meters away. The bull's behaviour was aggressive when humans were present, so extra safety precautions were taken. Teams observed a wound that appeared on Batoka's rear, which was likely caused by the bull's tusks as he considered Batoka a threat. The bull soon crossed the river and joined Chamilandu and Batoka, staying with them until 11 AM when the orphans re-joined the rest of their herd to start their daily walk in the bush.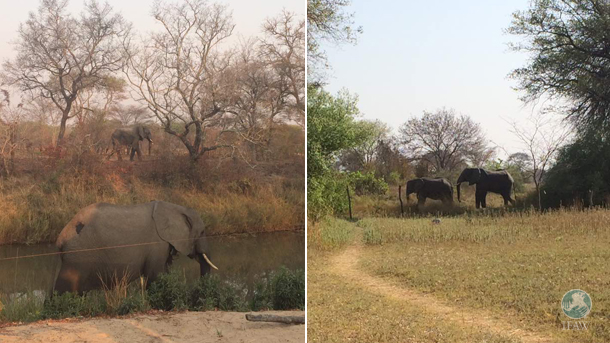 On September 21st, the bull appeared again at 6 AM whilst Chamilandu was inside the boma (a protective predator proof enclosure where release-phase elephants can choose to enter with the younger orphans or remain in the bush). The pair exchanged communicative rumbles, and Chamilandu was let out of the boma where she stayed with the bull until 2 PM. The bull was observed chasing her and attempting to mount her, sometimes successfully. Chamilandu was also seen presenting herself to the bull; such behaviour suggests that she was in oestrus. Chamilandu stayed outside of the boma during the evening, and was accompanied by the bull once again at 1 AM on September 22nd. This sexual behaviour continued to be observed when Chamilandu and the bull were close to camp. They remained close to one another for the rest of the day, and on the morning of September 23rd, the bull had left the area and did not return again.
The Elephant Orphanage Project has been prepared for this day since we first observed behavioural signs of oestrus back in 2015. This is an extremely risky time for the keepers, as they are still "mothers" to Chamilandu in times of stress and worry, but seen as competition to a bull. Therefore, strict safety protocols were implemented as soon as this bull was observed coming close to camp.
Oestrus cycles occur approximately every 15 weeks, but with so many instances of sexual mounting, it is possible that Chamilandu could be pregnant. Our first clue will come in January if she does not show any signs of oestrus. Chamilandu has taken some quite significant steps recently as she moves further through the release process and closer to life back in the wild.
Should Chamilandu be pregnant she will give birth after a long 22 month pregnancy!
Stay tuned for more on Chamilandu's story.
–LO

GD Star Rating
loading...
Article source: IFAW