We're coming off an inspiring week among peers and experts who are putting their skills to work in telling the story of the Earth's wildlife and habitats. The Jackson Hole Wildlife Film Festival is an international celebration of the best producers, editors, film crews and conservation storytellers over a biennial time frame.
The gathering opened with the Cat Conservation Summit, a forum for international felid experts to present recent research, policy proposals, partnerships and innovative approaches to protecting lions, tigers, leopards, and other imperiled big cats around the world. Timing coincided with IFAW's celebrity-led campaign to protect the US Endangered Species Act (ESA) lions and allowed for National Geographic Explorers in Residence Dereck and Beverly Joubert to stand by our side for the African Lion. (Visit OneActForAll.com to learn more!)
We are grateful that Hollywood Actress and IFAW ambassador Joely Fisher joined us at the festival as well, sharing her own personal story of how conservation and animal welfare came into focus for her, and how the rest of Hollywood plays a role in elevating such critical messages.

Films Huntwatch (IFAW) and Sonic Sea (IFAW, NRDC, Imaginary Forces) were both finalists in the Jackson Hole Wildlife Film Festival awards this 2017. Huntwatch was nominated in the "Impact" category, which was created by IFAW just a few years ago to applaud films that are having a true impact on the world. Sonic Sea took home a win for the Best Science in Nature award!
It's a true honor to have Sonic Sea win for Best Science in Nature. This provocative 60-minute documentary launched in March 2016 and aired on Discovery Channel. Sonic Sea brings awareness to the devastating impact of industrial and military ocean noise on whales and other marine life. Narrated by Rachel McAdams and featuring Sting, the film offers solutions and hope for a quieter ocean, and underscores that the ocean's destiny is inextricably bound to our own.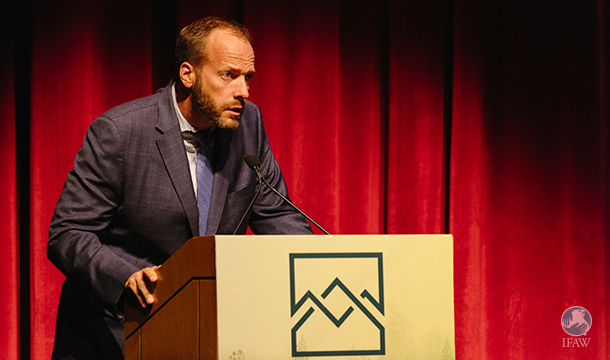 The ultimate Grand Teton award went to IFAW honorary board member, Leonardo DiCaprio's investigative film, "The Ivory Game".The award is a win for elephants, and was received with an emotional tribute to conservationist Wayne Lotter who was tragically killed in Tanzania last month.
Documentary films are a deeply impactful way of sharing the messages of conservation, habitat health, animal behavior and animal welfare, both on an individual animal basis and for a population at large. These films are also a poignant way to see and celebrate the impact animals have on our human communities. For these reasons and more, IFAW's Film Unit will continue to innovate and grow to reach new audiences around the world.
–KA
GD Star Rating
loading...
Article source: IFAW