By Kelly L. Williams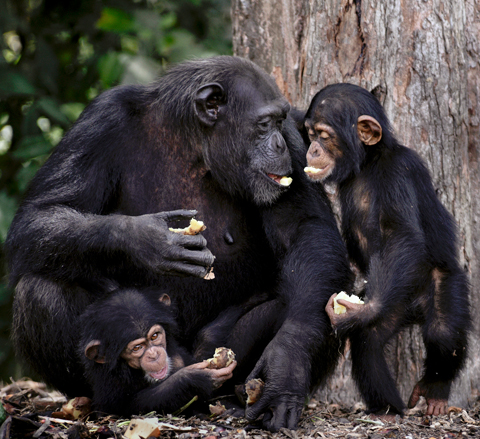 In 2017, The HSUS took on big fights for animals—and you joined in alongside us. When we met with lawmakers to advocate for legislation that protects animals, your voices backed us up. You were by our side in corporate boardrooms as we encouraged leading companies to adopt more humane practices. And you were with our teams on the ground, caring for animals in the face of human-caused cruelty and natural disasters.
Together, we are making the world a safer, kinder place for animals. Here are some of the moments you made possible in 2017—and a peek at some of our big goals for the year ahead.
Winning support for chimps
Two years after The HSUS and Humane Society International began caring for more than 60 chimpanzees formerly used in medical research by the New York Blood Center, the NYBC agreed to commit $6 million to help with the animals' long-term care. Thousands of donors, dozens of organizations and a dedicated on-the-ground team in Liberia supported the chimps, and the new funding will help The HSUS and the Liberian government build a permanent sanctuary for the animals.
Making room for chickens
More than 700 million chickens will have a more comfortable life thanks to our work with Perdue. The country's fourth-largest poultry producer announced a series of reforms in June, including adding natural light to chicken houses, increasing space, providing enrichments like hay bales and perches and switching to a more humane slaughter method. They'll also start using healthier breeds instead of quick-growing birds who spend their days in pain.
Shining a spotlight on cruelty
After an undercover HSUS investigator spent two months working at a high-end New York City pet store, we exposed the store's duplicitous dealings with the public. Employees didn't disclose information on the dogs' origins (some were from puppy mills previously cited by the USDA for inhumane conditions), and they misled buyers about the dogs' health. After public outcry, the store shut down.
Protecting horses
Horses now benefit from the same protections as cats, dogs and other pets in Pennsylvania. Cruelty to horses counts as a felony rather than a summary offense (like a traffic ticket) in the state, and this landmark law brings us one step closer to protecting horses nationwide.
Answering the call
When Hurricanes Harvey, Irma and Maria made landfall in Texas, Florida and Puerto Rico, respectively, the HSUS Animal Rescue Team was on the ground—and sometimes in the water—to help thousands of animals in need. With assistance from our Emergency Placement Partners and other groups, we coordinated mass transports of adoptable animals from local shelters, making space for displaced pets and strays.
Cracking down on puppy mills
California became the first state to ban the sale of commercially bred dogs, cats and rabbits in pet stores. Instead, stores will offer adoptable animals from local rescues and shelters. Not only does the move promote adoption, but it strikes a meaningful blow against puppy millers who sell their animals in pet stores.
Promoting plant-based fare
Diners at universities and hospitals around the country will have access to more meat-free meals, saving millions of animal lives each year. The HSUS partnered with Compass Group and Aramark—two of the largest food service providers in the United States—to develop plant-based menus and to create marketing plans for their new options.
Giving senior dogs a second chance
More than 200 senior dogs from Puerto Rico—many of whom had spent years in shelters—found homes stateside. In August, we worked with local groups to fly the dogs to our Emergency Placement Partners on the mainland. The transport freed up much-needed space in Puerto Rican shelters, which was in high demand when Hurricane Maria hit Puerto Rico the following month.
Stopping bear hunts
Black bears in two states were spared from becoming the victims of trophy hunting. In Connecticut, the senate struck down language that would have permitted the first statewide bear hunt in more than 100 years. In Florida, wildlife commissioners voted to extend a bear hunt moratorium through 2018.
Ending exotic animal acts
The effort to protect elephants and other performing wild animals gathered momentum. Ringling Bros. started the year with news it would shut down for good in May. In April, the city of Los Angeles voted unanimously to ban the exhibition of wild or exotic animals in live entertainment. A month later, HSUS supporters in New York City helped pass a similar ban on animals used in circuses. In August, Illinois became the first state to ban the use of elephants in traveling shows—and New York became the second in October.
Every animal we've helped is a life changed for the better, but we're working to change the world for animals on a huge scale, ending suffering where it's most widespread and acute. We've achieved so much in 2017—and we're ready to help even more animals in the year ahead. Here's what you can help us accomplish in 2018 and beyond.
Prohibit animal testing of
cosmetics ingredients and
products by passing the
Humane Cosmetics Act and getting
major cosmetic brands to support this
legislation.
In 2018, we'll strive to move the HCA
forward and persuade L'Oréal to sign on
to the measure.
Keep American horses safe by
preventing slaughterhouses from
reopening in the United States
and stopping horses from being exported for
slaughter abroad.
Improve the lives of the 9 billion
chickens raised and killed for meat
in the United States each year by
persuading major food companies to give birds
more space, add environmental enrichments,
use healthier breeds and switch to less cruel
slaughter methods.
In 2018, we want to give egg-laying chickens,
calves raised for veal and mother pigs better
lives by passing a ballot measure in California
that eliminates the caged confinement of these
animals when raised in the state or used for
products sold in the state.
Stop the cruel dog meat trade in South Korea by helping dog
farmers transition to new,
humane forms of agriculture and gaining
public support for the end of dog meat
consumption.
Protect dogs raised in puppy
mills—and eventually put an end
to mass dog breeding operations
that abuse and exploit animals—by
increasing restrictions on breeders,
improving required standards of care and
helping pet stores transition to offering
shelter and rescue pets.
In 2018, we're aiming to pass an Ohio ballot
measure that requires breeders to meet
higher standards of care and mandates that
puppies sold in the state are from breeders
who meet those standards.
End trophy hunting—the
barbaric practice of killing an
animal for the sole purpose
of display and bragging rights—in the
U.S. and around the world.
---
Read more from this issue
Subscribe to All Animals
GD Star Rating
loading...
Article source: HSUS