To stop the slaughter of elephants, we have to break every link on the trade chain—from poaching to trafficking to demand. At the close of the year on 31 December 2017, China's legal domestic ivory trade officially and historically came to a close. 100 percent of the country's licensed ivory carving factories and retailers have been shut  down in accordance with a landmark 2015 announcement from Chinese President Xi Jinping and then US President Barack Obama. With this action, China takes a leading role in saving elephants.
As long as the ivory market exists, elephants will live in danger of being poached. IFAW stands with China today as the country commits to END its domestic ivory trade! Thank you, China! 谢谢中国 pic.twitter.com/iO95paO7LF

— IFAW (@action4ifaw) December 31, 2017
In December 2016, China introduced a phased schedule to revoke some licenses by March, 2017 and to end all commercial ivory carving and retail sales by the close of 2017. The plan also encouraged a shift toward other carving materials and the preservation of existing ivory carvings for their non-commercial cultural value.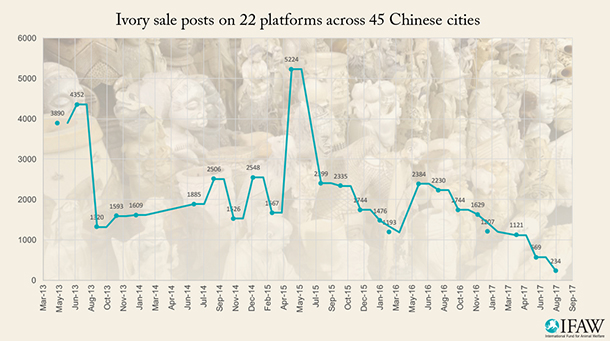 Over the past 12 months, the price of ivory has dropped dramatically in China and across Asia. The dropping price reduces ivory's speculative attraction as an investment asset and reduces the incentive for poachers to kill elephants.
This kind of change does not happen overnight, and our IFAW team has been a driving force working tirelessly to  build awareness, inform policy and reduce demand for endangered species products over multiple decades. We are proud that awareness and action has resulted in change. That said, we vow to keep the pressure on.
As long as ivory market exists, elephants will live in danger. IFAW stands with China as the country commits to end its domestic ivory trade! We encourage all global markets to do the same, and will continue our work on the ground in the EU, UK, US, Australia and beyond this 2018!
Thank you, China! 谢谢中国
–GG
How can YOU help in your region? We have the following live actions where you can make a global difference for elephants:
GD Star Rating
loading...
Article source: IFAW