Companies are pulling yabby traps from their shelves, and it's great news for platypuses. In the past year, 14 have been found dead after having drowned in such traps in Victoria's public waters. So far, BCF has removed the traps from its online store, and Anglers Warehouse has followed suit by removing them from its store. And now, Kmart Australia has decided not to restock the products on store shelves and will no longer sell them online.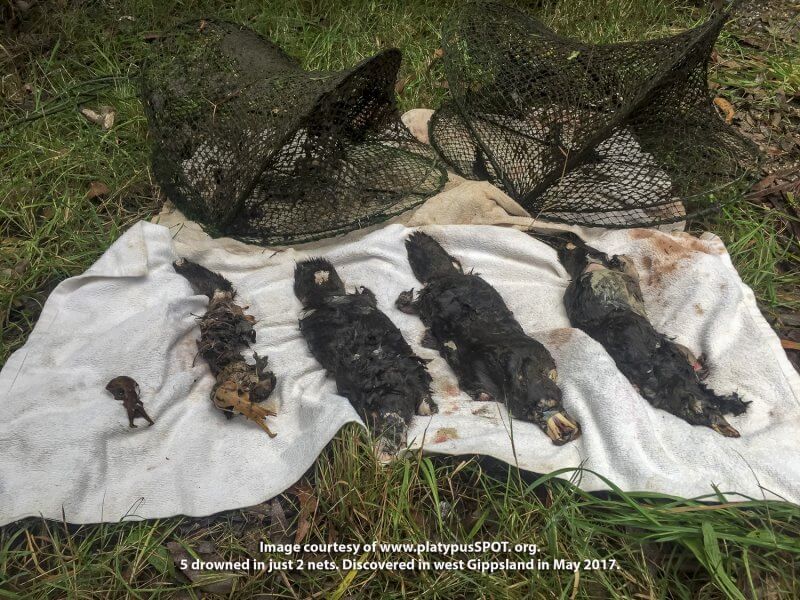 Leaving opera house–style yabby traps in public waters is illegal in Victoria, and PETA has offered a reward of $5,000 for information leading to the identification and conviction of those responsible for leaving these death traps unmonitored. The traps are used during the summer months, when female platypuses are foraging for food for their babies. If a mother is caught in a trap, her young will starve to death.
Stores are ending sales of the traps after hearing from PETA, the Victorian Alliance for Platypus-Safe Yabby Traps, and almost 10,000 PETA supporters who signed our online action. Sickeningly, they're still being sold by Anaconda, Aussie Disposals, and CH Smith Marine. Please join us in asking them to take these cruel traps off their shelves.
Take Action
Photograph courtesy of Doug Gimesy
Anyone with information about unmonitored traps in Victorian waterways is encouraged to call the Victorian Fisheries Authority on 13FISH (13 3474). To report crimes against wildlife, call Crime Stoppers on 1 800 333 000. Reporting is confidential – authorities need only your information to solve crimes, not your name.
GD Star Rating
loading...
Article source: PETA Files