By Kelly L. Williams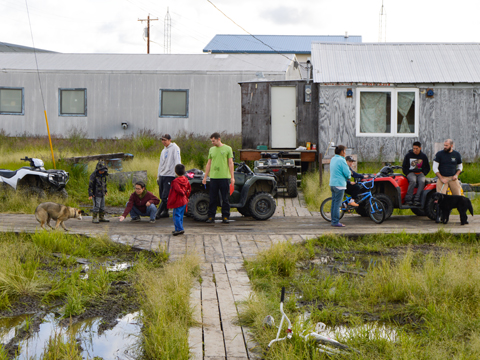 It's 10 o'clock at night in Napaskiak, Alaska, and the village's dark-paneled bingo hall buzzes
with activity. But nobody's calling numbers, and there are no neon markers in sight. Instead, rectangular
folding tables scrape along the linoleum as Amanda Arrington and Jason Schipkowski, both from The
HSUS, drag them into place in the long end of the small L-shaped building. Around the corner, their
coworker Danny Burke assembles large plastic dog crates while Angie Fitch—who works with local group
Alaska Native Rural Veterinary—and Aimee Christian and Jocelyn Kessler of the ASPCA place folding chairs
in a semicircle. The room's layout takes shape as they pull one last table into place facing the chairs, creating
a barrier to the rest of room and a natural focal point for anyone entering the building.
It's grunt work, but it's critical to what the team will be doing here,
and they're happy to do it. As the group puts the finishing touches
on the setup—stacking paperwork, arranging piles of fleece blankets—
under the fluorescent lighting, the sun still shines outdoors,
casting a golden glow on the nearby Kuskokwim River. Here in
this remote Alaska village, in July, the sun won't set until nearly
midnight. By then, the group will be back in their temporary sleeping
quarters: an elementary school, empty for the summer but
rented out to the team for the next four days. There, surrounded
by children's drawings and signs in both English and Yup'ik (the
language of many indigenous locals), they will discuss the plan for
the next morning, when the HSUS Pets for Life program begins its
inaugural clinic providing free veterinary services in rural Alaska.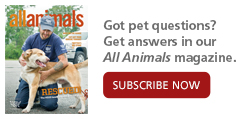 The mission
Pets for Life operates on a simple principle: that everybody loves
their pets and wants to do what's best for them, but some people
simply cannot access the care they need. Just as food deserts prevent
some residents of underserved communities from accessing
affordable healthy food, pet resource deserts prevent others from
accessing affordable veterinary services and supplies for their
companion animals. The Pets for Life model bridges gaps between
pet owners and service providers by offering free spay/neuter surgeries,
basic veterinary care, pet products and ongoing resources
to help people keep the pets they love.
In the Lower 48, PFL works in cities such as Los Angeles,
where residents might not have a veterinary clinic nearby or be
able to take their animals on public transportation to get them
to a distant practice. Although the challenges in Alaska's Yukon-
Kuskokwim Delta look a little different, and the scale is a little
smaller (Napaskiak's population is just 425), the end result is the
same: Loving pet owners cannot access the services they need. It's
easy for outsiders to pass judgment, to say that people who can't
afford veterinary care shouldn't keep pets.
That they don't love their animals. This
misconception couldn't be further from
the truth, says Fitch, executive director of
Alaska Native Rural Veterinary, a Fairbanksbased
nonprofit that signed on with PFL as a mentorship partner. "If there are issues with animals, it's 100
percent because of lack of services. They do the best with what
they have," she says. "The goal is to support people so they can
keep the animals they do have." Arrington, director of Pets for
Life, agrees. She sees it everywhere PFL works, though the details—
and the challenges—look a little different in Alaska.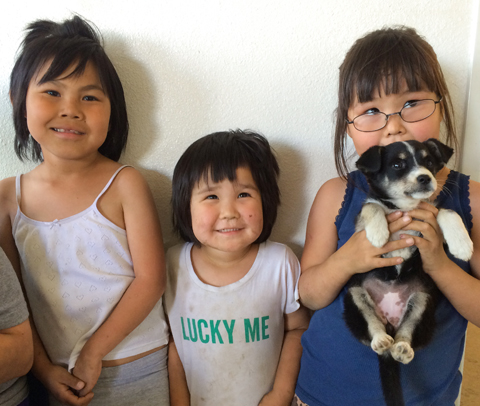 The three villages that will receive PFL services—Napaskiak,
Napakiak and Kwethluk—are not on Alaska's road system. In fact,
there are few roads in this region. This is the arctic tundra. A deep
layer of permafrost—mostly frozen organic matter—lies below
the surface, thawing in the warm weather and creating a swampy
layer of ground that would swallow roads. Instead, a warren of
raised wooden platforms wends through the villages, making biking
and four-wheeling more practical transit solutions.
In the towns that do have roads, most locals don't use them.
In nearby Bethel—located about 400 miles west of Anchorage
and the hub of the Yukon-Kuskokwim Delta—locals mostly bike
or take taxis because owning a car is prohibitively expensive. To
reach the other villages, residents travel by boat or by bush plane,
landing at the villages' tiny air strips. Bethel has a population that
hovers around 6,500—and, crucially, an airport. All supplies must
be flown in to the region, making the town one of the state's largest
cargo hubs. Each day, the tiny Bethel airport teems with locals
dragging huge plastic crates packed with non-perishable food: It
can be cheaper to stock up when you visit Anchorage than to purchase
your food in Bethel.
Given the difficulty of finding affordable food, it's not surprising
that finding affordable pet care is just as difficult—if not more
so. For the 58 villages that comprise the Yukon-Kuskokwim Delta,
the only available pet care is a visiting veterinarian in Bethel. In
summer, villagers and their pets must travel by boat to the town; in
winter, when the river freezes, they need a snowmobile or a truck
outfitted with snow chains. In the shoulder seasons, when the
river is not quite frozen and not quite running, they have to shell
out for seats on a bush plane. (A 15-minute
flight can cost $75 one-way.) In Bethel, they
pay top dollar for services, simply because
of the sheer cost of shipping in vet supplies.

In a region heavily populated by native
Alaskans, many of whom are subsistence hunters, gatherers and fishers, spending
hundreds of dollars for a spay or neuter surgery
is hard to justify. And timing is tricky,
too: The veterinarian visits Bethel just once
a month and will soon be retiring.
Fitch's group had been working alone to
fill this gap in services in the region before
they joined up with PFL as a mentorship
partner. Although The HSUS has Pets for
Life teams working in two core cities—Los
Angeles and Philadelphia—the in-depth mentorship of local organizations
ensures the program has a national reach. The mentorship
groups use best practices honed in the two core cities, such as
door-to-door relationship building, so they can become positive,
long-term resources in their own communities. So in 2017, with
funds to branch into Alaska, the PFL team started looking for a
local partner. Eventually, they found Fitch and her organization.
They just clicked. "We really liked the philosophical alignment
with the group," says Arrington. PFL's mentorship will amplify
and strengthen the local group's work, bringing along those proven
best practices—and much-needed financial support.
When Fitch helped found ANRV in 2011 to bring free veterinary
services to rural communities in Alaska, she was driven in
part by her own experiences. While growing up in the small town
of Talkeetna, Fitch felt firsthand the effects of being far from a
veterinarian. Talkeetna is on the road system, she says, "but we
were 100 miles from the nearest city when I was a kid. And so I
know what it's like to have a dog that's sick or injured and not have
vet care." Today, she is heavily involved with every clinic ANRV
runs. "I coordinate, raise money, go on the trips," she says. "I'm
the pushy one that makes it happen." She's exactly the type of
person the PFL mentorship can benefit, and her knowledge of the
region and its people is invaluable as the PFL team plans their
work. "I think we're meant to be here," says Fitch. "We're meant
to know each other."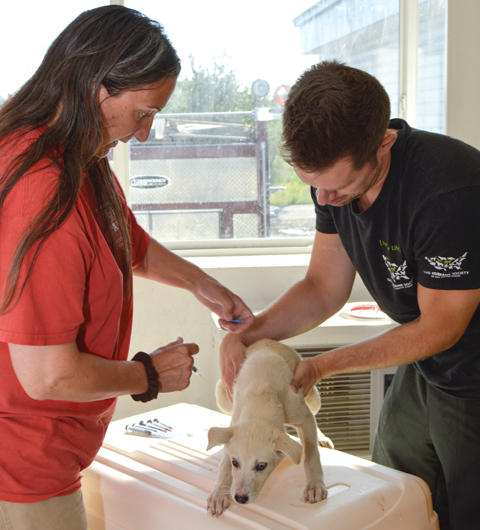 The people
Before the team starts setting up in the bingo hall, Arrington and
her group spend a good two hours walking through Napaskiak and
meeting its residents. Arrington says that this door-to-door relationship
building is her favorite part of the job. The team calls it
"doing the work." This work isn't about the obvious physical components
of the job; it's not about giving dewormer pills or rabies
vaccinations. It's about making critical connections, knocking on
doors and meeting the people they're serving, when the team gets
to explain that yes, the services are free, and no, they will not take
anyone's dog away. It's about showing their faces, getting to know
the community and building trust.
A small group of kids gathers around the team as soon as they
emerge from the school. Riding on bikes and running ahead, the
children are instantly curious about the visitors. The villages in
the delta don't get a lot of outside visitors, and the kids eagerly show off their community—and their dogs.
One boy, Micah, is accompanied by Pooh, a
stout black Lab mix wearing a string of faux
pearls beside her collar. She trots alongside
the expanding group as they go from door to
door. The folks inside are politely curious,
but understandably guarded. All the team
can do is share their information and hope
the residents turn out for the clinic.

Arrington had visited the villages a few
months back, and soon the team reaches a house she remembers.
Here she met a preteen boy named James, his extended family and
their dogs, and they instantly connected. "Going back a second
time I was really looking forward to seeing them, in part because
when I left the first time they made me promise that I would be
coming back," she says. When they spot one another, the recognition
is immediate. James approaches with a shy smile, and soon he
and his sister come up for hugs and photos. "To go back and to see
them and to hear from them that they had been thinking about it
and that they were expecting for us to return was a pretty special
thing," says Arrington.
Keeping promises to people in the communities where they
work encapsulates the PFL approach. "That's a tent pole of the
program," says Schipkowski, Pets for Life mentorship and training
manager. "We do what we say and our word is our bond."
This attitude helped convince Fitch that the Pets for Life mentorship
could be a really good thing for the region. Fitch is fiercely
protective of the native villages she serves, and she worried "about
bringing people who might be racist or judgmental." Outsiders
who don't understand the scope of the problem—the distance,
the poverty, the simple inaccessibility of services—can make snap
judgments about the people in these communities. "They face
enough racism as it is," she says. Villagers take full advantage of
the resources they do have, but they bump up against logistical
barriers. "And it's not their fault."
The payoff
On the morning of the Napaskiak clinic, the team is excited to get
started. Fitch and the Pets for Life team have spent two months
planning for these first three PFL clinics. They hired a local man to
pilot the motorboat that would take them from village to village.
They found three veterinarians to do the surgeries and three vet
students to assist. They hauled pills and vaccines and blankets and
collars and crates onto planes and into boats and onto four-wheelers.
They invited Christian and Kessler, the two ASPCA staffers,
to come along and observe the PFL team in action—and to pitch
in during the clinics. And they did the work, going from door to
door, meeting people and inviting them to bring their pets for free
services. And now they are at Napaskiak's bingo hall at 8 o'clock in
the morning, to see whether the work pays off.
The bingo hall is locked.
As Fitch whips out her cell phone and calls a local contact,
people start to show up. There's no massive line, but there is a respectable
group of adults and kids with their dogs milling outside
the hall—including James, his sister and all their dogs.
Soon the doors are unlocked. Arrington's team, Fitch, the vets
and the ASPCA volunteers move into action mode. Burke and
Schipkowski greet newcomers, explaining the available services
and treatments and collecting details on intake forms. Fitch administers
dewormer and rabies shots and keeps the veterinarians
and vet students apprised of how many dogs are waiting. One veterinarian
will prep anesthesia while another performs the surgeries;
a third provides dental cleanings to some of the sleeping dogs.
Eventually they find their groove, working in assembly-line fashion
to treat as many animals as possible.
After surgery, the dogs lie on comfy blankets, their paws, tails
and noses twitching as they come out of the fog. Occasionally, a
lucky kid will get to sit with her own pup, coaxing him back into
wakefulness. Afterward, another staffer provides the pet owners
with discharge instructions, explaining that the incision site
cannot get wet. The kids eagerly take colorful fleece blankets and
nylon collars for their pets.
In all three villages, local children provide free publicity for the
events. It's summer vacation, and when a boat full of outsiders and
giant plastic crates shows up, the kids inevitably greet the team
with questions. In Napakiak, a pair of twin girls meets the boat,
telling the team about their dogs and promising to bring them
in. Mostly they're excited, but they have sad stories, too—about
dogs who got sick and had no recourse for treatment. The kids are
eager to learn about spay/neuter surgeries and vaccinations—and
about Dr. Laura Pfeifer, a veterinarian who performs the majority
of surgeries with rapid precision over the bulge of her pregnant
belly. She allows some time for questions and answers. At least
one young girl is impressed, saying she'd never seen a woman do
something like that while she was pregnant.
Taking it all in
These first three clinics are as much about information gathering
as they are about providing services, says Arrington. Figuring out
standard operating procedures for surgeries. Identifying the most
efficient means of travel between villages. Getting to know the
spaces they'll be using for future clinics.
The team encounters challenges they've never faced in communities
in the Lower 48. One especially chilly morning, their
boat captain, Shawn, calls to say his boat is stuck in the mud and
he can't push it into the river. He doesn't ask for help, but the team
volunteers their collective muscle. They troop up the river, lugging
the supplies meant for the day's clinic in Kwethluk. Everyone wades into the water, pushing the boat until
it comes loose with a sucking sound and a
cheer.
All three days bring problems with electricity.
In Napaskiak, a power line is down,
and the veterinarians must improvise a new
anesthesia protocol without the use of an
electric oxygen machine. Something similar
happens in Kwethluk, where the clinic is
staged in a police station, and again the team
comes up with a new protocol. When they arrive in Napakiak for
the day, the electricity hasn't yet been turned on. Fitch has to go
to the village's general store to pre-pay the bill before the lights
come on. And in the middle of the day, an overhead light blows
out suddenly, shooting out sparks and a whiff of ozone. Nobody is
fazed. An electrician comes and gives them the OK to keep going.

No matter what happens, the PFL team carries on. They made a
commitment to the community, and they will keep it—even when
it involves extra manual labor. In Napaskiak, Burke spends much of
the morning with Mighty, a huge shaggy black dog with "the wimpiest
bark ever." Yet the kids were scared of him, explains Burke, PFL
senior program manager, so he monitors a leashed Mighty outside
the bingo hall until it's Mighty's turn for surgery. Afterward, Burke
and Schipkowski carry the massive dog—still a bit loopy from anesthesia—
back to his home on the other side of the village.
The way forward
Over three days, the team performs 106 surgeries, administers 295
rabies and distemper shots and coaxes 176 dogs into taking dewormer
pills. They buy out the entire stock of leashes and collars
at a store in Bethel, giving them all away for free. They jot down
contact information for clients they can't serve, either because
they've exhausted their supply of dewormer or because the veterinarians
can't fit in another surgery after the 12-hour days. They
don't see a cat until the final clinic, in Kwethluk; cats just aren't
common in the area. Everyone gives the kitty extra attention.
They treat large dogs and small, proud hounds and tiny
Chihuahua mixes. During the Napakiak clinic, the veterinarians
alter nine fluffy puppies, brought in by a woman and her kids because
they know that nine puppies now can lead to a whole lot
more puppies down the road. When the oldest boy, a teenager,
says he's interested in going into the veterinary field, Schipkowski
demonstrates how to give dewormer pills. The boy helps deworm
the wiggly puppies "like a champ," says Schipkowski.
But, says Arrington, the clinics are only part of the work. They
help familiarize villagers with the program, but they are only the
start of creating real, lasting change. "The goal is to go several
times a year until we get the population under control," explains
Fitch. "Then we can maintain it. We don't just go in every
so often." Part of the work is introducing people to the upsides
of spay/neuter surgery. Beyond the obvious benefit of reducing
the population, male dogs may be less aggressive after surgery, while females are less prone to pyometra, a
life-threatening uterine disease.
After the clinics, the Pets for Life team
works with Fitch to hire an outreach coordinator
based in Bethel. The coordinator will
help organize clinics, working within the
communities to provide services on a regular
basis and serving as a point of contact for the
villagers. Offering frequent spay/neuter and
wellness services—both of which require
licensed veterinarians—can be a challenge thanks to the area's
"extreme isolation," says Schipkowski. But the team is determined
to maintain a sustained approach. Eventually, as the population
stabilizes, they can taper off the number of clinics and move into
maintenance mode, offering less frequent spay/neuter surgeries.
They'll remain in the area, though, acting as a consistent and reliable
resource. They're in it for the long haul.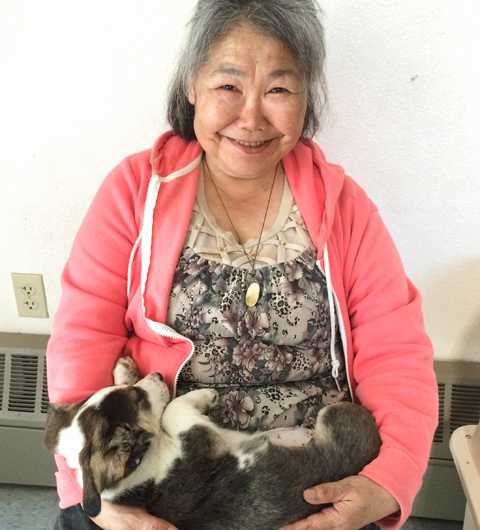 At the tiny airport in Bethel, the hub from which everyone will fly
to Anchorage and then back to their homes in the Lower 48, the
team chats quietly, decompressing and sharing their thoughts on
the week, when an older man approaches. He asks them if they're
teachers, a few of the dozens of educators who are brought in each
year to work in Alaska's remote communities. Burke says no and
explains what they're doing, about the free clinics and the more
easily accessible pet services. The man listens, nodding. He says he
lives 70 miles by plane—more than 100 by boat—from Napaskiak,
but he asks the team to give him a call next time they're doing
services in the villages. He has a dog and he'd like her to be spayed.
It's worth the trip. It's worth the work.
---
Read more from this issue
Subscribe to All Animals
GD Star Rating
loading...
Article source: HSUS