By Kelly L. Williams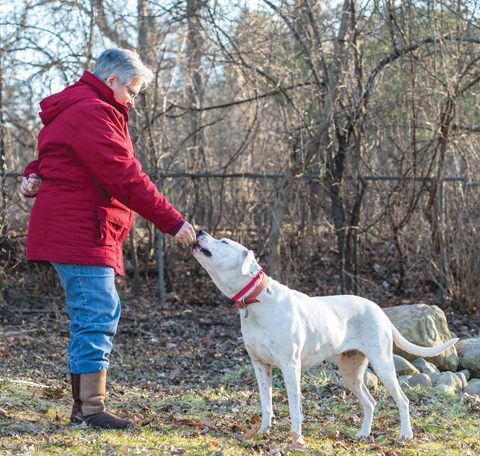 The first time Ann trotted into her new home, she made a beeline for the living room sofa. The 4-year-old Dogo Argentino had just been adopted by Jane Harlow, and she knew what she wanted: a comfy place to nap.
The plush red couch couldn't have been more different from the trappings of Ann's previous life. She spent her first few years on a property in Cottonwood, Alabama, where she and more than 60 other dogs appear to have endured neglect, mistreatment and inadequate diets. Many of the dogs had skin infections, and their emaciated frames suggested severe malnutrition. Ann was likely a breeding dog, birthing litter after litter of pups in a barren cage only to have them taken away.
That was Ann's life until The HSUS stepped in. At the request of local authorities—who determined that the dogs were in urgent need of care—the HSUS Animal Rescue Team helped seize the dogs, the majority of them Dogos Argentinos. Ann spent time in a temporary shelter as the criminal case against her owner progressed before she and Ivan, another dog rescued from the property, moved to the Humane Society of Huron Valley, an HSUS Emergency Placement Partner in Ann Arbor, Michigan. Canine behaviorists worked closely with the dogs, readying them for their new lives with loving families. Ivan was soon adopted, but Ann remained at the shelter—for nearly a year and a half.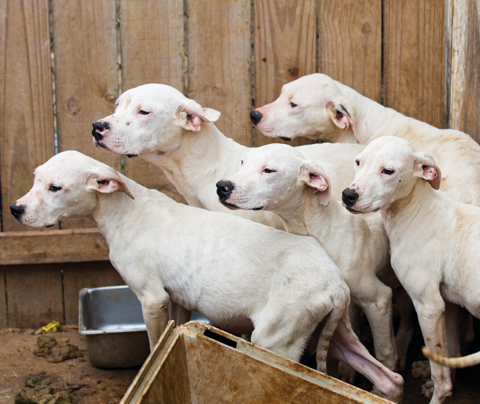 "She received multiple walks a day from volunteers, shelter breaks from loving fosters and doting attention from all of us staff," says HSHV communications director Wendy Welch. "But every day her adopter didn't come broke our hearts."
Then, one day in March 2017, that adopter came.
Harlow was visiting HSHV during a special event, unsure whether she was ready to adopt. She made the rounds, but nobody caught her eye—until she saw Ann.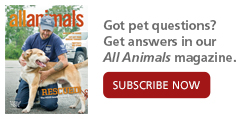 "I looked at Ann and she looked at me, and I thought 'Oh, dear. This one's going home with me,' " says Harlow, who felt an instant connection. "She raised her head Opposite page, clockwise from top left: Dogo Argentino pups get ready to leave the Alabama property; two volunteers carry a dog to a transport vehicle during the rescue; an adult Dogo Argentino waits patiently; Mindy Gilbert, HSUS Alabama state director, comforts a dog. Above: Jane Harlow and Ann play in their Michigan backyard. and looked at me and we made eye contact, and I like to think she had the same feeling. When I get that feeling in life, I just sort of go with it because I figure it's the right decision."
A year later, Harlow knows it was the right decision. Ann has the run of a large fenced yard, where she chooses to spend much of her time. By chance, Ivan's owner lives nearby, and the dogs meet occasionally for puppy play dates. "They have great fun together," says Harlow. Although Ann was fearful of men at first, she's coming around to Harlow's son and grandsons. And the comfort of a stable environment has helped her put on weight, reaching a vet-approved 85 pounds. "Now she is just fat and sassy," says Harlow. Fat, sassy—and still the mistress of a certain comfy red couch.
---
Read more from All Animals
Subscribe to All Animals
GD Star Rating
loading...
Article source: HSUS