By Kelly L. Williams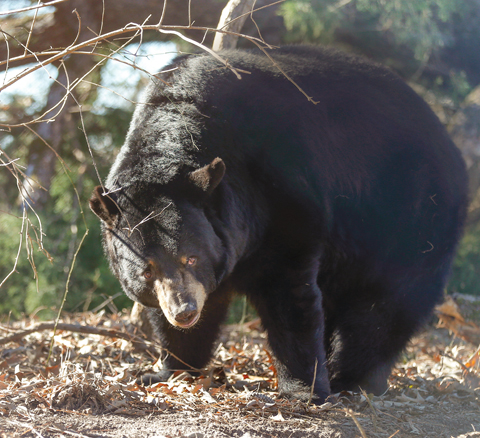 At 19 and 26, Sammi and Tibor deserve a break. The two black bears came from the entertainment industry—where they traveled the country performing and posing for staged photos—before their owner chose to retire them to Cleveland Amory Black Beauty Ranch. Black bears live about 25 years in captivity, and this geriatric pair will spend the rest of their days in a natural environment where they can forage, scratch and play.
At least that's the hope, says senior animal caregiver Katie Birk. Right now, the bears have a schedule of their own devising. They get breakfast in their outdoor enclosures, but as soon as they've eaten, "they turn around and go back to bed," says Birk. "And they sleep for the rest of the day."
It's understandable. After arriving at the ranch in January, Sammi and Tibor were still in hibernation mode, preferring to snooze and conserve energy rather than explore. Once the weather warms up, they'll have a little more pep. They should also feel better overall; one of the main benefits of their new life at the ranch is "top-notch veterinary care," Birk says. That care includes pain medications and joint supplements to treat their arthritis.
Getting more exercise and shedding a few winter pounds should also ease the pair's joint pain. At the ranch, the bears have plenty of opportunities to stretch both their limbs and their minds. Along with pools, perches and platforms for climbing, they'll get enrichment toys to engage their curiosity. "A lot of the toys involve kind of a beehive scenario," says Birk, "like a ball that has a hole in it and they have to bat it around to get a treat out of it." Birk and her team have already discovered one of the bears' favorite treats: cherries. In the years ahead, Sammi and Tibor will get plenty of these snacks as they settle in to their new lives. They deserve it.
---
Read more from All Animals
Subscribe to All Animals
GD Star Rating
loading...
Article source: HSUS