After learning about the shocking, systemic cruelty in the wool industry, the global online fashion retailer boohoo group plc has announced that it will no longer produce items made of wool.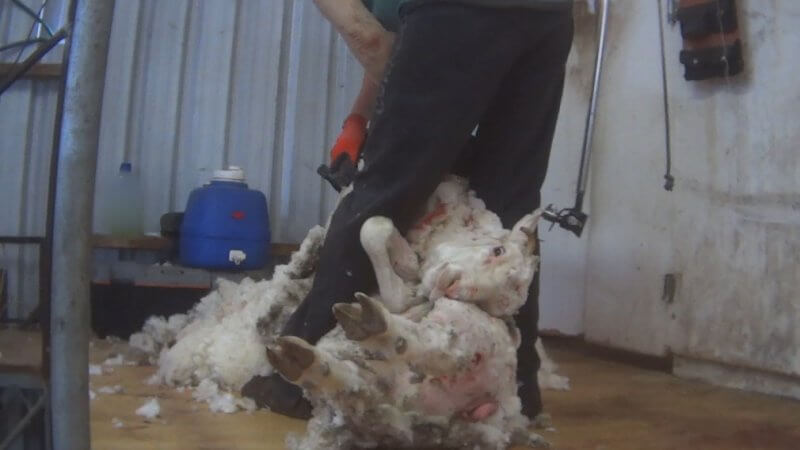 The group – which includes the brands boohoo, boohooMAN, PrettyLittleThing, and Nasty Gal – told PETA that "as of AW19/20, we will not knowingly source any wool products".
"PETA is toasting Boohoo Group's compassionate, business-savvy decision to scrap wool," says PETA Campaigns Advisor Mimi Bekhechi. "Kind shoppers agree that no jumper or scarf is worth the abuse of gentle sheep who are kicked, punched, and killed on the shearing floor, and we're urging other retailers to follow boohoo's forward-thinking example."
Since 2014, PETA and its affiliates have released 11 exposés of 99 wool industry operations on four continents, and systemic abuse was found in every one. The most recent exposés – recorded on sheep farms here in Australia, the world's largest exporter of wool – reveal that workers beat petrified sheep, mutilated them, and slit the throats of fully conscious animals. One sheep kicked for nearly a minute after the manager began cutting her throat, and he said that some kick for a "bloody couple of minutes".
The wool industry also wreaks havoc on the environment: manure generated from livestock has significantly contributed to the increase in atmospheric greenhouse gases, and large-scale grazing has led to vegetation change and soil erosion. The 2017 "Pulse of the Fashion Industry" report ranked wool fourth on its list of materials with the highest cradle-to-gate impact per kilogram on the environment.
What You Can Do to Help Sheep
Look in your dresser and closet. Are you still wearing wool? If you are, please stop. Now is the time to rid your home of wool. It's up to you to end these gentle animals' suffering by refusing to buy anything made of wool. Please, give lambs something to be thankful for: Ditch wool today.
No matter where it comes from or what assurances companies give you, wool is a product of cruelty to sheep, which is rampant in the industry.
It's more important than ever to keep pressure on other brands, so please urge Forever 21 to join boohoo group in ditching wool today:
Urge Forever 21 to Stop Selling Wool
GD Star Rating
loading...
Article source: PETA Action Alerts