The following article was written by Sunny and originally appeared on peta2.
With
Thanksgiving just a few days away, it's comforting to know that pulling off a
scrumptious vegan feast is as easy as pumpkin pie.
We've already mentioned some delicious turkey substitutes,
but I wanted to let y'all know that Gardein has
its seasonal Savory Stuffed Turk'y out as well. And in the spirit of being
thankful, grateful, generous, and hungry,
we'd like you all to take advantage of a coupon for $1
off any Gardein product.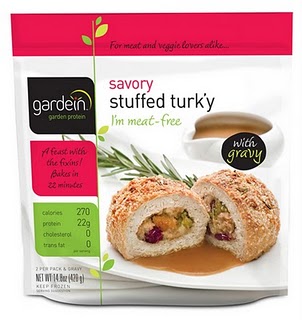 If you
haven't tried Gardein before, you're gonna flip! Its yummy factor is through
the roof, and its texture is so meaty that your friends and family might decide
to ditch eating a dead bird after having a taste.
Now
that you know about some deee-lish turkey substitutes, don't forget about
veganizing your sides. Check out our PETA's Thanksgiving recipes, and be sure to download and print out our Thanksgiving checklist as well!
GD Star Rating
loading...
Article source: PETA Action Alerts