Death Agony: Wild Horse Roundup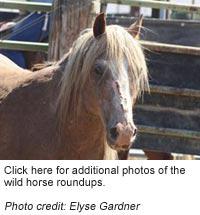 Despite the public's outcry against young foals being run long distances in high temperatures during the height of summer, the Bureau of Land Management (BLM) blazed forward with a plan to roundup 1,400 federally protected wild mustangs from Nevada's Tuscarora region in Elko County in July. Tragically, the roundup resulted in the death of at least 21 horses and several others being treated for painful colic and brain swelling due to dehydration and exhaustion.
Help stop this massacre of America's wild horses! Contact your U.S. Representatives and Senators and urge them to:
1. Call on the Interior Department and President Obama to halt the BLM's summer roundups; and
2. Use their appropriations authority to strip funding for this abusive practice while the National Academy of Sciences conducts its independent review of the program (slated to begin in January 2011).
Thousands of additional wild horses and burros are slated for removal, paid for with your tax dollars.
Violating their own protocol of waiting until mid-August (after the foaling season) to begin helicopter roundups, the BLM started the Nevada roundup in July. Adults and foals, some only days or weeks old, were chased up to eight miles over dangerously rocky and rugged terrain during the hottest part of the summer. Last winter, after being run over similar terrain, two foals suffered horrible deaths when their hooves separated from their leg bones.
While there is some debate around the reason for the gather – the BLM claims it's to protect the horses; wild horse advocates say it's driven by helicopter availability, using taxpayer money before the end of the fiscal year and making public lands available for cattle ranchers – there is no question that the horses' best interests should dictate the schedule and size of the roundup. Chasing mothers and their newborn foals across the desert during the hottest months of the year is clearly not protecting these majestic animals.
The BLM's mismanagement must be stopped before another horse suffers and dies at the agency's hands. Send a letter to your Representatives and Senators through ALDF's website, demanding a moratorium on all summer roundups.
GD Star Rating
loading...
Article source: IFAW