Felony Charged in North Carolina Horse Neglect Case
(Randolph County, NC) Authorities charged Martha Montgomery with felony and misdemeanor charges of animal cruelty after seizing three horses due to alleged neglect in December 2010. All three of the horses are reportedly recovering, with one in particular responding well to the extensive veterinary treatment he has received for hoof deterioration and infection.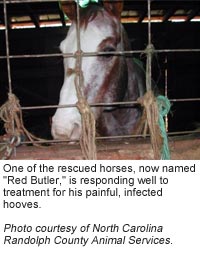 The North Carolina governor signed "Susie's Law" in June 2010, allowing prosecutors to pursue felony charges in cases of severe neglect. Even where states have a felony provision for animal abuse (there remain only four which do not), these charges may have limitations such as not being applicable on first offenses, or when the suffering has been caused by long-term neglect (as opposed to an acute violent attack). ALDF works directly with legislators at the local, state and federal level by drafting, reviewing and testifying in support of animal protection law enhancements. North Carolina legislators understand that animal protection is important to their voting constituents and "Susie's Law" had the rare good fortune of being passed unanimously.
Take Action!
Local residents are encouraged to support the prosecution by attending the court proceedings. A hearing in the Martha Montgomery case is currently scheduled for January 10, 2011. (Always contact the Court to confirm court dates and locations as they are subject to change.)
Clerk of the Court
District Court of Randolph County
176 East Salisbury Street
Asheboro, NC 27203
336-328-3005
Court website
Case #s: 2010056942 CR and 2010056943 CR
Make a New Year's resolution to become active at your state legislature! Below are links which provide information toward becoming an effective advocate and strengthening your state's animal protection laws. Voting constituents who educate themselves on the mechanics of the legislative process and then commit to an issue are crucial players in the ongoing effort to gain improved legal protections for animals.
GD Star Rating
loading...
Article source: IFAW