Florida Dogfighting Case – Please Attend Sentencing Hearing!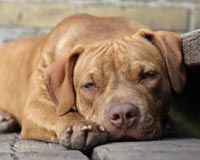 (Baker County, FL)  When police seized 13 dogs in April 2010, animal cruelty and dogfighting charges were subsequently brought against Cletus Gaskins and Omar Aldridge. Reportedly running away from the officers on the scene and leaving his four-year-old son behind in the process, Aldridge was also charged with child neglect. 
Dogs raised for fighting are forced to live desperately, repeatedly suffering ruthless and gruesome abuses as well as systematic neglect. Tragically, it is not unusual for children to be victimized by this culture as well – either taken to fighting events by the very adults they should be able to count on to shield them from harm, or chronically exposed to squalid and dangerous living conditions.
On March 8, 2011 Gaskins and Aldridge entered pleas to charges of both cruelty to animals and fighting or baiting animals – both felonies under Florida law. The prosecution will present its sentencing recommendations to Judge Rosier at a hearing on Wednesday, April 27, 2011 at 2:00 p.m.

Take Action!
Please send polite letters in care of Assistant State Attorney Geoff Fleck, encouraging Judge Rosier to hand down aggressive and meaningful sentences which clearly reflect the Court's recognition of the cruel violence and attendant criminal activities which dogfighting inflicts on communities. 
Local residents are encouraged to support the prosecution by attending the court proceedings. The sentencing hearing is currently scheduled for Wednesday, April 27, 2011 at 2:00 p.m.  (Always contact the Court to confirm court dates and locations as they are subject to change.)
Clerk of the Circuit Court, Criminal Division
8th Judicial Circuit
Baker County Courthouse
339 East Macclenny Avenue
Macclenny, FL 32063
904-259-0206
Case Information Online
case #10000148CFMA= Omar Rashaun Aldridge
case #10000150CFMA= Cletus Dennard Gaskins
GD Star Rating
loading...
Article source: IFAW