29 Dogs Victimized in Domestic Violence Case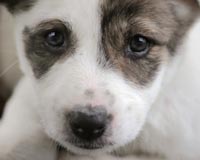 (Hancock County, WV) Alerted to a potentially violent situation on March 9, 2011, a SWAT team brought an end to Jeffrey Nally, Jr.'s alleged months-long abuse of his ex-girlfriend. Nally allegedly terrorized the woman by sadistically killing twenty-nine dogs – mostly puppies which he reportedly obtained via classified ads – over an approximately two-month period during which he allegedly kept the woman captive at the property.
…Police believe Nally began killing the animals in January.
"Mutilated, skinned, anything you can imagine," said Chief Deputy Todd Murray of the animals.
"[Nally used] everything from a crossbow, to a drill, saws to hammers.
There were several means he used to [mutilate and kill the dogs]."
Murray added that it appeared the suspect used a different tool to kill each dog…
…"After the dogs were killed, he would make her clean up," Murray said…
WTOV TV 9, March 10, 2011
With Nally facing charges of kidnapping, domestic battery and 29 counts of felony animal cruelty, this case provides a disturbing reminder of the link between cruelty to animals and domestic violence and the importance of legislative awareness on this issue. West Virginia, for example, recently passed a provision which allows for the inclusion of animals in domestic violence protective orders.

Take Action!
Send a letter to your legislators through ALDF's website! Let your legislators know that as a voting constituent you are concerned about animal cruelty and its effects on communities – effects which are not only evident in the physical suffering these cases involve, but in the monetary costs which repeat offenders shift onto taxpayers by over-burdening animal shelters and other community agencies.
Does your state enable cross-reporting options between agencies (PDF) such as child protective services and animal control? What, if any, mental health evaluation and treatment requirements are mandated for animal abuse cases? Encourage your legislators to consider ALDF's annual State Animal Protection Laws rankings report and contact ALDF for information on what legislative improvements are needed to your state's animal protection laws.
Write a Letter to the Editor!
Educate your local newspapers and community on the dangers associated with "free to a good home" ads for animals by writing a letter to your local newspaper editor through ALDF's website. Encourage newspapers to help educate the public by not accepting "free pet" ads and/or running simple cautionary notices in the "animals" sections of their classifieds. 
Resources:
GD Star Rating
loading...
Article source: IFAW