The following article was
written by Ashley Palmer.
According
to Glamour Magazine, rumor has it that a particular chicken recipe will get your
man to pop the question.
The
traditional recipe calls for an entire chicken carcass.
And the secret ingredient? Shoving entire lemons up the dead bird's bum. Nast-ay!
So
what's an animal-loving girl to do when she is tired of waiting for a proposal?!
Try out our vegan version
of the elusive recipe instead. Here's to hoping he'll "put a ring on
it" soon!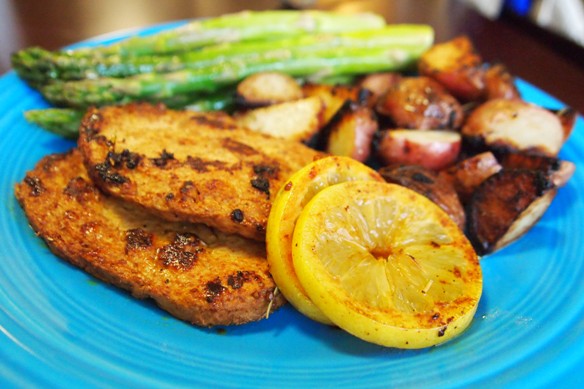 Vegan Engagement Chicken
2 Gardein Chick'n Scallopini Cutlets
2 Tbsp.
extra virgin olive oil
1/3
cup vegetable broth
2
cloves garlic, crushed
1
whole lemon, halved
1/4 tsp.
dried rosemary
1/4
tsp. black pepper
Combine
all the ingredients (except the lemon) into a dish. Take one of your lemon
halves and squeeze the fresh juice into the mixture and set in the fridge to marinate
for about 4 hours.
Slice your other lemon half into thin slices. You'll
use this as a garnish after quickly browning them in a pan.
Pour
all the ingredients into a frying pan, and turn your stove to medium-high heat.
Allow
the Gardein chik'n to soak in the liquid. Flip occasionally. Eventually, the
liquid will begin to absorb and evaporate. You must flip the chick'n more
frequently until it becomes golden brown and crispy on the outside.
Serve
with lots of love to the object of your affection!
Makes 1 serving
And for all the brides- and grooms-to-be, consider honoring
your guests with a donation to PETA through our new wedding favors of compassion!
GD Star Rating
loading...
Article source: PETA Action Alerts