The following article
was written by Keegan Baur.
Cooking is all about experimenting, right? Adding this,
taking out that, replacing this or that with another ingredient… Just about
any recipe can easily be "veganized," and when I saw Paula Deen's
recipe for Baked French
Toast Casserole, I knew that I had to make it.
Lately, we sure have had fun veganizing with Paula Deen. What recipes have you successfully made cruelty-free? Share the links below and
tell us about them!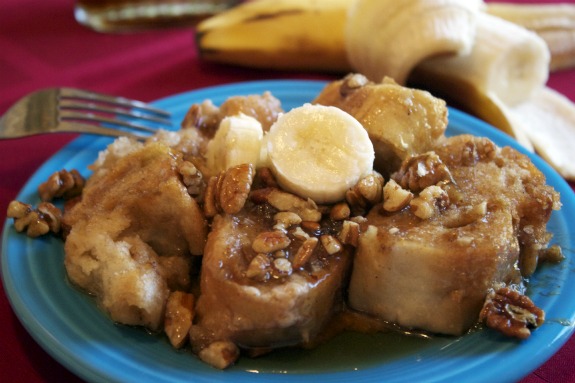 Baked French Toast
Casserole With Maple Syrup
Day 1 Ingredients: 
1 loaf French bread (13 to 16 ounces)
Egg
replacer for 8 eggs*
2 cups vegan
creamer
1 cup milk
alternative
2 Tbsp. vegan cane sugar
1 tsp. vanilla extract
1/4 tsp. ground cinnamon
1/4 tsp. ground nutmeg
Dash salt
*I used 1 banana, 1/2 cup applesauce, and Ener-G Egg Replacer for 4 eggs, and it turned out fine.
Slice the French bread into about 20 slices,
1-inch each.
Arranges the slices in a generously "buttered"
9-inch-by-13-inch flat baking dish, in rows, overlapping the slices.
In a large bowl, combine the egg replacer, vegan
creamer, milk alternative, sugar, vanilla, cinnamon, nutmeg, and salt and beat
with a rotary beater or whisk until blended but not too bubbly.
Pour the mixture over the bread slices, making
sure that all are covered evenly, and spoon some of the mixture in between the
slices.
Cover with foil and refrigerate overnight.
Day 2 Ingredients (for
the Praline Topping):
2 sticks (1 cup) vegan butter
1 cup packed light brown sugar
1 cup chopped pecans
2 Tbsp. light corn syrup*
1/2 tsp. ground cinnamon
1/2 tsp. ground nutmeg
*I substituted Raw Agave Nectar because that
was what I had on hand.
Preheat the oven to 350°F.
Prepare the praline topping by combining all the
ingredients in a medium bowl and blending well.
Spread the praline topping evenly over the bread
and bake for 40 minutes, until puffed and lightly golden brown.
Serve with maple syrup.
GD Star Rating
loading...
Article source: PETA Action Alerts